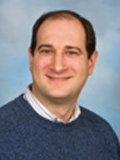 OWU Alumni gives presentation on new research idea
By Tung Nguyen, Online Editor
Dr. Brady Porter, a faculty member of Duquesne University and also an Ohio Wesleyan University alumnus, made a return and presented his recent research on Friday, Feb. 9.
In collaboration with the National Aviary and the Carnegie Museum of Natural History, Dr. Porter focuses his research on the applications of DNA metabarcoding to dietary analyses and environmental DNA surveys.
"The problem is that bird diets are difficult to study," Dr. Porter said.
By watching the behaviors and the surrounding habitats of    Louisiana Waterthrush, a breed of warblers in eastern North America, Dr. Porter finds a different approach to study its dietary.
"We also want to see what insects it feed its young nestlings and observe the digestive process," Dr. Porter said.
Later on, Dr. Porter dissects the defecation of these nestlings and provides accurate data about the types of prey items that these bird are eating.
Dr. Dustin Reichard, an OWU professor of zoology, said: "I was not aware how much dietary data could be extracted from avian fecal samples. Dr. Porter's technique is also much less invasive than the traditional ones and it represents the future of studying food webs."
Besides working as a faculty member at Duquesne University, Dr. Porter still regularly returns and contributes his findings to the Natural Museum of OWU as well as helps to train the students.
"Dr. Jed Burtt spent a lot of time training and inspiring me when I was here at OWU during the 90s," Dr. Porter said. "So my motivation to make a return to OWU is to give something back."
According to Dr. Porter, one of his many experiences with Dr. Burtt that helped him to make a breakthrough in Zoology was attending a scientific meeting in the University of Pittsburgh in 1987.
"Dr. Burtt introduced me to one of the collection manager of the Carnegie Museum along with many other legendary scientists," Dr. Porter said. "They trained me how to do the museum's works and skills that allowed me to complete hundreds of findings for my job."
Speaking of Dr. Porter's contributions to OWU, Dr. Reichard said: "Dr. Porter trained the next generation of students to prepare both bird and mammal study skins for our museum. He is also a very important source of knowledge to keep the continuity of our museum as well."