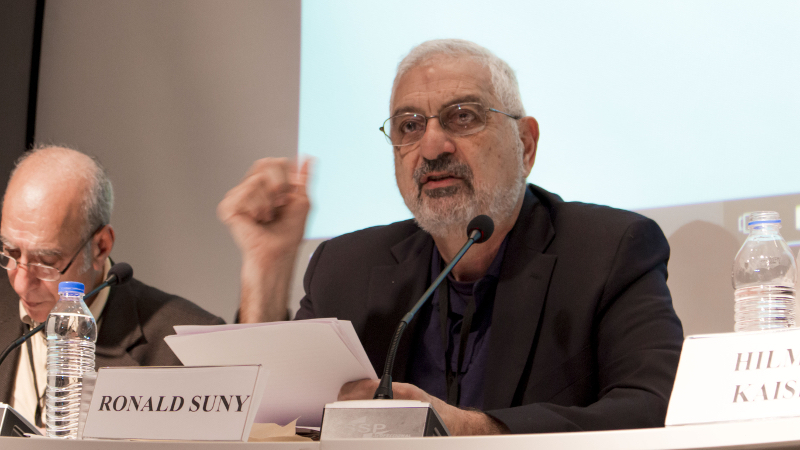 OWU discusses anniversary of Armenian Genocide through guest lecture
By Maddie Matos, A&E Editor
A horrific and overlooked event was honored in Ohio Wesleyan University's biennial Kragalott lecture.
Ronald Suny, professor at the University of Michigan, discussed the Armenian genocide, an event that happened over one hundred years ago. The genocide is regarded as the first mass killing of the twentieth century.
The genocide is not as widely known compared to other events in history, most famously the Holocaust during World War II. Through Suny's lecture, students gained a new perspective on what causes a genocide and the human nature behind it.
"It is very easy for people to blame their fears or problems on other groups of people who are different from them and cause mass violence and terror," said sophomore Amanda Hays, an OWU history board member.
Over 30 people attended the lecture held in the R.W. Corns Building, including people of Armenian descent.
Suny, an expert on the genocide, has published multiple works on the historical event. Suny is of Armenian descent, making the subject one more personal and essential to share.
The genocide occurred during World War I by the Turkish government. According to Suny, the new government felt threatened by the rise of Armenians in society. Many Armenians held higher positions of power, which challenged the social order in Turkey and starting the genocide.
"This rise created resentment in Turkish society, as they felt that the Armenians had caused a status flip, now with Armenians on top and Turks on the bottom," Suny said.
The genocide killed between 600,000 and 1 million people, making it the first genocide and documented crime against humanity in the 20th century. Various world leaders later used the event as a model for their own killings, including Adolf Hitler.
Suny explained the Turkish government also started the genocide through affective disposition. This idea of constructing a person off what they believed was a key argument in the presentation.
"The Turks felt five emotions towards the Armenians at the time of the genocide, which were fear, anger, resentment, anxiety and hatred," Suny said.
 The genocide is not acknowledged by the current Turkish government, along with other nations. The genocide, recognized or not, still destroyed thousands of lives, Suny explained.
Throughout the lecture, active audience members asked questions and engaged with Suny. Some were impressed by Suny's presentation.
"The speaker had a lot to say and was obviously very impassioned by the subject," Hays said.
The Armenian genocide lecture provided an insight to a historical event often overlooked, but left an impact felt throughout the world.