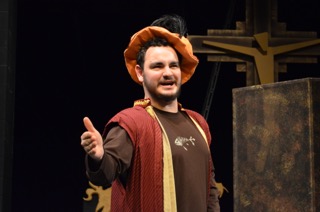 OWU's theatre department recreates history in latest show
By Maddie Matos, A&E Editor
Ohio Wesleyan University's theatre department delved into royal intrigue and religious question with the student production of Royal Gambit.
The show is about King Henry VIII of England and his famous six wives. The wives were known for meeting dynamic ends, with half of the wives dying in their marriage. Each of the marriages were highlighted in the show, and often intermingled with one another.
The show ran from Feb. 15 through Feb. 18 at the Chappelear Drama Center.
Different topics during Henry's reign were shown, including the religious turmoil Henry brought when he started the Protestant Revolution and its consequences for all his wives. Actors felt the challenge of recreating a historical drama and being able to portray characters correctly, even if they were an understudy.
"One of my biggest challenges was trying to balance my character research and progression without actually being able to act and perform," Logan Kovach, who played King Henry VIII's understudy, said.
Students enjoyed the show and the varied performances cast members gave. The show had humorous elements, making the performance more enjoyable for the audience.
"I enjoyed the dynamics of the characters," freshman Shayla Scheitler said.
"I thought the show had a comedic relief with all of the innuendos, and that made the show all the more entertaining."
The production was directed by professor of theatre Elane Denny-Todd, had a cast and crew of over forty people, making the show a smaller production compared to other acts throughout the season.
The actors all gave varied performances, with praise directed mostly to senior Daniel Haygood in the role of Henry VIII.
"He embodied his character to the point that you couldn't identify him as a student here, just King Henry VIII," Scheitler said.
The play received praise from students and the actors, including a standing ovation at the end.