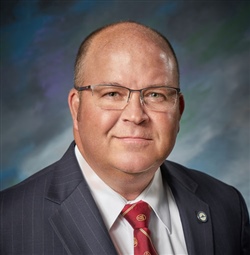 CEO of Heartland speaks on banking
By Tung Nguyen, Online Editor
How to succeed in businesses and how to effectively work in banks have been discussed year to year but "Morality in Business" does not seem so familiar for many people, both outside and inside the system.
G. Scott McComb made a visit to Ohio Wesleyan campus to share his knowledge as well as his experience about such subject on Apr. 12 in Benes Room B.
McComb is currently the president and chief executive officer of Ohio-based Heartland Bank. Before joining Heartland Bank in 1999, McComb was also an entrepreneur who has launched many successful businesses.
McComb started his lecture with the general basics of community banking. In fact, 92% of the United States' banks are Community banks. Even though they only control less than 38% of the national assets, Community banks still stand a chance against the large-scale ones and people's trust plays a big role in keeping these Community banks alive.
While large-scale banks use automated services to deal with a huge number of standardized accounts, Community banks put their eggs in maintaining long-term relationships with their core
customers by offering customized services, which require a substantial amount of people's trust.
"There will be someone who really know their stuffs and will be able to guide you," McComb said. "So don't undermine the power of your Community banks."
Heartland Bank itself largely relies on the confidence of its long-term customers to make incomes with the total assets of more than $683 million.
The financial crisis 2008 was also mentioned by McComb as one of the examples of how bad morality leads to devastated consequences. The crisis started when mortgage brokers initiated free loans to many homeowners without asking for pre-requisites and checking on their capabilities of paying.
Evan Cook, an OWU Economics major, said: "I definitely agree with him. Mortgage companies were pretty much giving out free loans to people that didn't deserve them. The banks didn't do their jobs and make sure the mortgage brokers were doing good works. When the bubble burst, people stopped trusting those banks, which helped cause the recession."
Regarding to the decision-making process and the existing peer pressures in the working environments, McComb said: "There is no other way to put it. You just have to do the right thing, even if
the majority aren't doing it. Let us keep it simple that way."
After the lecture, Samantha Merino, an OWU freshman, said: "It was a nice reminder of the impact that small things contribute to the workplace. Mr. McComb did a great job on explaining these
complicated ideas to business oriented people."