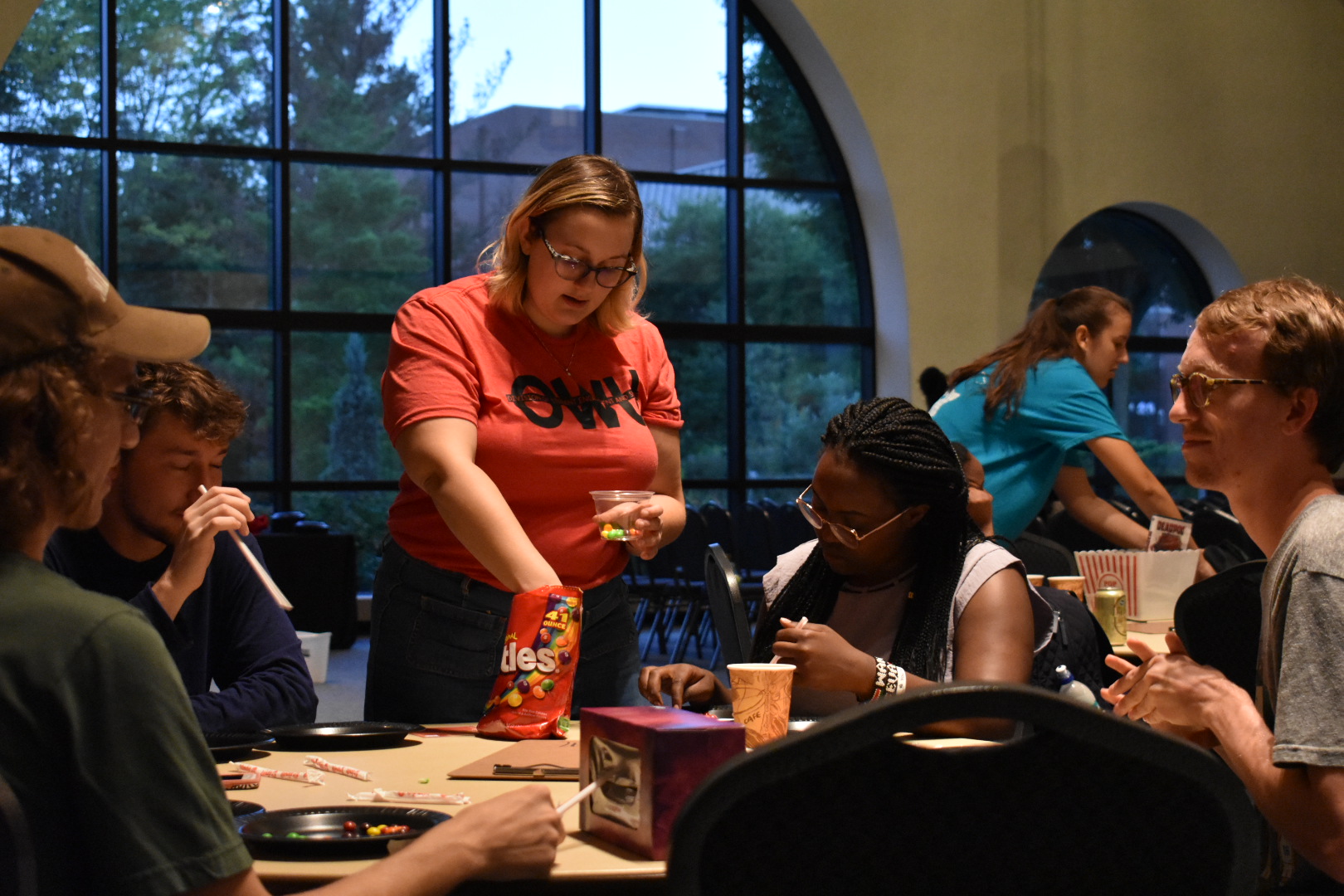 OhWoo Game of Games Begins With A Bang
By Maddie Matos
Arts and Entertainment Editor
mrmatos@owu.edu
A classic Ohio Wesleyan University event was revamped on Sept. 14 as a new way to build community on campus.
Hosted by the Campus Programming Board (CPB) and Residential Life, the first ever OhWoo Game of Games event was a combination of games and an improv show. This event used to be called Stuyin' Up but has been renamed and moved to the Hamilton-Williams Campus Center Benes Rooms for the night.
Over 30 students and staff members came to the event. Students were provided food and drinks from AVI Foodsystems.
"We [had] a good turnout, with people participating and playing the games, and winning prizes so I think it [went] pretty okay," junior HannahJo Grimes said.
For the first hour of the event, students were able to win different prizes if they won the game. The Residential Assistant's (RA) on campus decided on the games and prizes, such as laundry detergent and movies.
The games were in a minute to win it style, giving competitors one minute to complete a challenge. The speed and constant revolving of games was a huge hit.
"Minute to win it games are super fun and people tend to get really into them," junior Madison Haggerty said.
Both Grimes and Haggerty are on the Resident Life staff. They were accompanied by a small group of other RAs' on campus as well as members of CPB.
Preparation for the event was slim, with both programs having to work quickly to make it happen.
"This event was thrown together with pretty short notice, we have a new staff that is throwing this event together in just the last couple weeks," Grimes said. "They usually have a lot more time to plan it, so I think that they have done an amazing job for the short amount of time they had. But everyone wishes they had more time to put it together."
Both programs collaborated on the event to create more buzz and allow the event to be improved from previous years.
"We joined forces to have more brain power and ideas for the event," Haggerty said. "Each area tackled several elements, so the work load wasn't overwhelming for one group."
The second half of the night focused on the improv performance. Campus Programming Board brought the group MISSION improvABLE to campus. The group uses popular show styles and techniques to engage with the audience.
The event was well received by students, despite small challenges that Residential Life and Campus Programming Board had.
"Even without that extra time, we are still putting on a really great event," Grimes said.