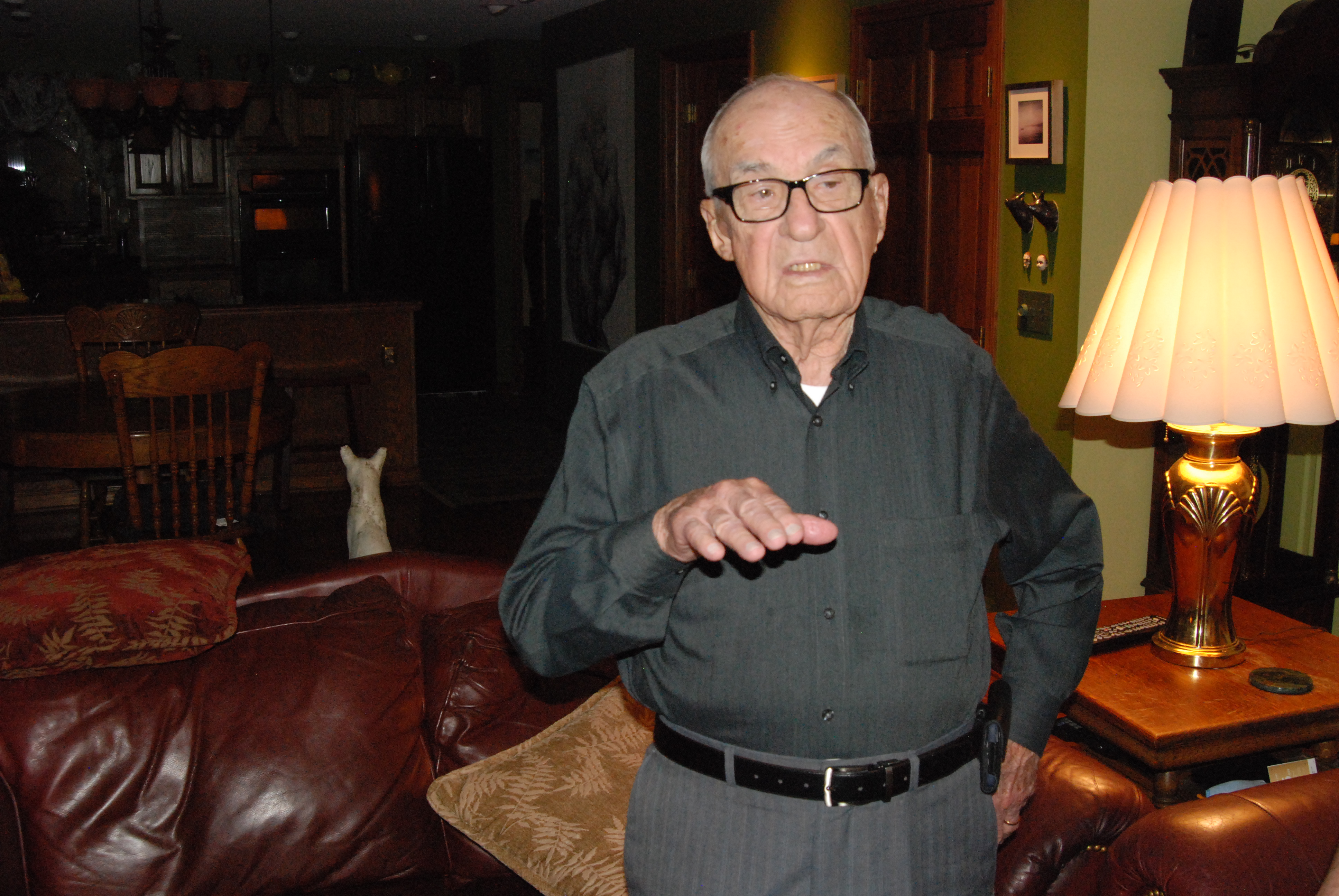 By Tiff Moore, Online Editor and John Bonus, Transcript Correspondent
Mario Sanchez is never going back to Cuba, and he still has nightmares about being trapped in the communist country.
Sanchez has a unique perspective on life in Cuba before and after Fidel Castro's communist takeover of the government. He attended law school with Castro at the University of Havana.
Sanchez was the son of a Cuban Supreme Court justice. Because of his father's status in the government, he was able to live comfortably and focus on his education. However, this all changed when his father died. With no government pension from his father, Sanchez had to drop out of law school and get a job as a school inspector to provide for his family.
Around this time, Castro was beginning his rise to power. He drew inspiration from revolutions in countries such as Nicaragua, and decided that the only way to fight corruption was to overthrow
the government of Fulgencio Batista. After Castro's takeover, everything changed for the people of Cuba, and the Sanchez family felt the effects almost immediately.
Dr. Michael Flamm, a history professor at Ohio Wesleyan University, said the Sanchez family could have been singled out by the Communist Party because of their connection to the Batista
regime.
"Since this man's father was a Supreme Court justice under Batista, it's possible that he was seen as someone who may be disloyal to Castro," said Flamm.
Castro ended the public school system in Cuba as part of his plan to re-educate the people. That meant that Sanchez and his wife, Josefina, were both out of work. To survive, Sanchez took a job working at the Havana harbor.
It was while he was at this job that the infamous Bay of Pigs invasion took place, an attempt to overthrow Castro carried out by exiled Cubans sponsored by the Central Intelligence Agency.
Whether you had experience or not, Sanchez said, everyone at harbors were given guns to fight off the attackers.
"They gave me a .45-caliber machine gun… They told me to shoot anyone who tried to get past the gate," said Sanchez. "I had never used a gun in my life."
After the invasion failed, Sanchez decided it was time for his family to get out of Cuba.
He applied for a visa to enter the United States in 1961. It was at that moment the Sanchez family became enemies of the state.
At the time, the Committee of the Defense of Revolution was watching everyone. The private buying, selling or trading of items was prohibited. To enforce this policy, the CDR took inventory of everything.
On April 29, 1962 Sanchez, his wife and two children arrived at the Havana airport with tickets for a one-way flight to Miami.
Everyone leaving the country had to be approved by officials at the airport to get on a plane. It was all going smoothly until it was Sanchez's turn. He was stopped from boarding the plane because he had sold his car, a green 1951 Ford, instead of turning it over to the government.
Elsie, Sanchez's daughter, still remembers hearing her brother screaming for their father as they sat on the plane without him.
Sanchez could not join his family in the United States until his car was in government hands.
Because of his family connections, Sanchez had a friend in the military who was able to track the new owner of the car. He bought the car back for more than he sold it and handed it over to
the government.
It was at this point that Sanchez realized he had another problem. During the complications at the airport, he ended up with his child's passport and not his own. Without that passport, he would never be able to fly to America.
Fortunately, Sanchez had a cousin who was a pilot. He was able to arrange for another pilot to fly back to Havana with Sanchez's passport and deliver it to him. He was finally able to leave Cuba, with only the clothes on his back and a single dime.
Sanchez arrived in Miami and met up with his family. He had trouble finding work, so one of his best friends invited his family to stay with them in Columbus. They have been in central Ohio
ever since.
Sanchez worked a couple different jobs in Columbus until he found what would become his career at Columbus Pest Control in 1965.
"In Cuba, I was afraid of bugs," said Sanchez, "but I loved this job and driving to different cities in Ohio."
Sanchez worked for Columbus Pest Control for 47 years before retiring in 2012. Sanchez has no interest in going back to Cuba, and refuses to travel there while it is under communist rule. However, his daughter Elsie feels differently and traveled to Cuba three years ago. She said she had wanted to go back all her life.
"People asked me why I wanted to go and just see destruction," said Elsie. "It doesn't matter, it is my land."
Elsie is an artist, and went to Cuba through a program with other artists. She went back to her home, expecting it to be run down. However, the family that currently lives there took good care
of the house and fixed it to look brand new.
Elsie stood outside the house taking pictures and wanted to go inside. The family was hesitant at first because they did not know who she was. Elsie showed them a picture of her in front of
the house with the nanny who lived in the home after the Sanchezes left. The family then let Elsie in because they recognized the nanny. Once she was in the house, she could not believe how nice it looked.
After visiting her old home, she walked around the neighborhood talking to the locals. Some people told her, "This is hell, we're hoping things change."
Elsie said that if she didn't become an artist she probably would've been a doctor. She received inspiration from her dad, who used to draw pictures at his job, and tried to draw what he drew.
She took night classes at Ohio State University, and it took 12 years to get her degree because she was working at the same time.
Elsie said her art is abstract. "I try to put all the emotion in the artwork without depicting anything."
The Sanchez family still resides in central Ohio. While Elsie plans to travel to Cuba again soon, Mario said he "will never set foot in Cuba."