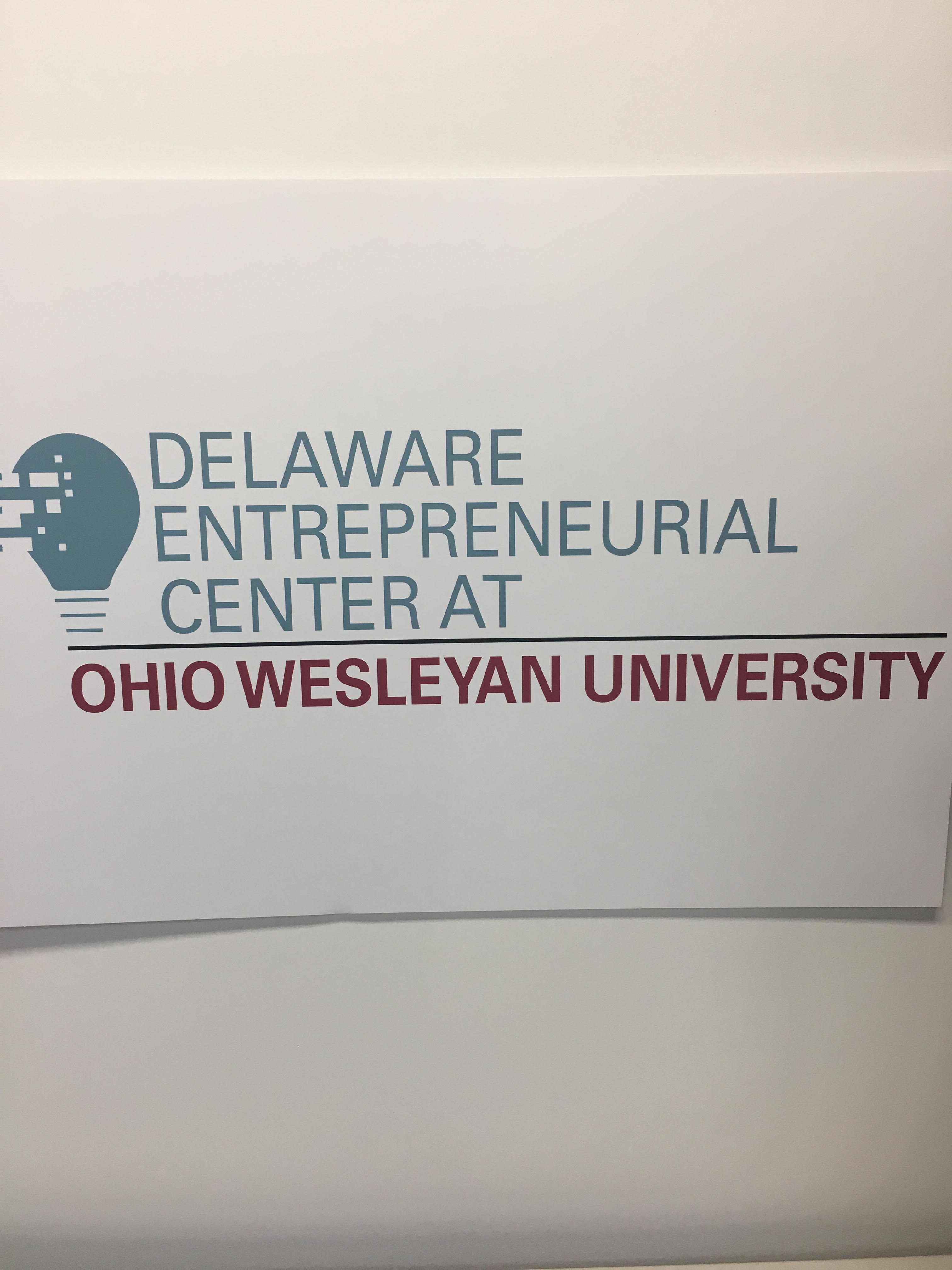 By Kienan O'Doherty, Editor-In-Chief
A new chapter for the future has already been written for Ohio Wesleyan, the city of Delaware and Delaware County with the latest grand opening.
The Delaware Entrepreneurial Center at Ohio Wesleyan University (OWU) opened its doors for the first time to the public with a special ribbon-cutting ceremony. The center, which takes the place of the old Stewart Annex, was completely remodeled to provide a home for those that are looking to venture into the business world.
With an industrial and modern theme, the center includes two floors filled with offices, open presentation floors, and small rooms where people can brainstorm and expand on ideas.
One of those offices already has an occupant. Jack Foley '22 is the founder of ReYuze Cases, a company that creates and sells cellphone cases made of plastic recycled from the streets, canals, and landfills of Haiti. He believes that the opening of the center provides a bright light for students seeking entrepreneurship.
"A lot of students can get internships with companies here, like myself," Foley said. "For any student at OWU that has a business idea, it allows them to collaborate with not only people in Delaware, but also via the OWU Connection, and this building represents that. It's connecting OWU students with the community and entrepreneurial spirit."
The center also featured many other student-founded businesses throughout the center, including Sweet Lizabella's, a toffee company founded by Elizabeth Knowlton '19, which prides itself on using four ingredients.
During the ribbon-cutting ceremony, OWU President Rock Jones stated that the opening of the center is the first of its kind in the nation.
"We are not aware of another place in the country where city, county and university have come together on the university campus to do what's happening here," Jones said. "That is extraordinary, and it's a reminder of the good fortune we all have to live in a community where the town and the county and university collaborate with one another, value one another, and want to create experiences with one another."
The Delaware Entrepreneurial Center also provides a hub for residents as well, as City of Delaware Mayor Carolyn Kay Riggle sees more possibilities.
"Unfortunately, Delaware has been a bedroom community for quite a while," Riggle said. "I would love to see more businesses stay here so that you'll live here, [but] also work here and play here, so that we can offer everything, and I think this entrepreneurial center provides that opportunity."