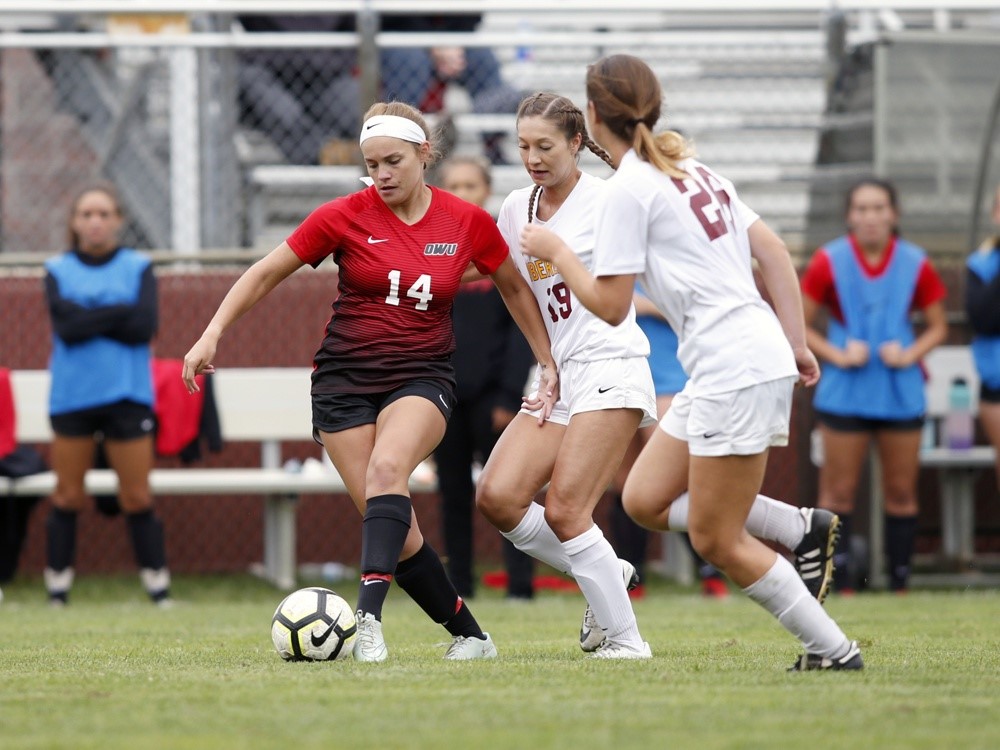 By Hailey De La Vara, Transcript Reporter
Regardless of the struggles faced by the Ohio Wesleyan University (OWU) women's soccer team, they only fell one game short of the NCAC tournament.
The Bishops completed their season with a 7-9-1 overall record, with a 3-5 record in conference play.
Halfway through the season the Bishops lost their top scorer,Maggie Morse, to an ACL tear. Head coach Nicole Ross acknowledged Morse's role as a leader on and off the field and expressed the extent of how it affected the season.
"We played a different formation without her and it was a little risky.
We played with less defenders and we had to move a lot of people
around, but Maggie still stayed a big part of our program", Ross said.
After suffering a four game losing streak during the middle of the
season, the Bishops quickly recovered with a three game win streak, including a win against Kenyon to keep their season alive.
The win streak was enough to get some recognition, but not enough for the Battling Bishops.
Senior captain and goalkeeper Mackenzie Brunke, shared her
excitement about the Kenyon game and how it sparked a flame for the Bishop's success.
"We were a different team this game, we came out with a chip on our shoulder and willing to do the work to prove the conference wrong", Brunke said. "This win and shutout was the beginning of us having a chance to make it to the NCAC tournament for the first time in three years."
The deciding game that would advance the women's team into the
NCAC tournament was against Wittenberg. After a hard fought game the Bishops fell 0-1 in overtime.
Despite the loss, the Bishops had one last conference game to play. The contest ended in another loss, however it gave the opportunity for senior captain Megan Price to reflect on the team's emotional final game.
"We may not have gotten the results we wanted but in the end I was surrounded by my teammates and family. Being a captain made me grow, mature and be way more responsible. In the end I became a much better person and player," Price said.
Ross expressed that the ultimate goal for next year is to continue
building as a program and remain hungry for an NCAC tournament
appearance.
The top scorer for the Bishops was Ashley Smiley with 8 goals and
Brunke finished the season with 97 saves.