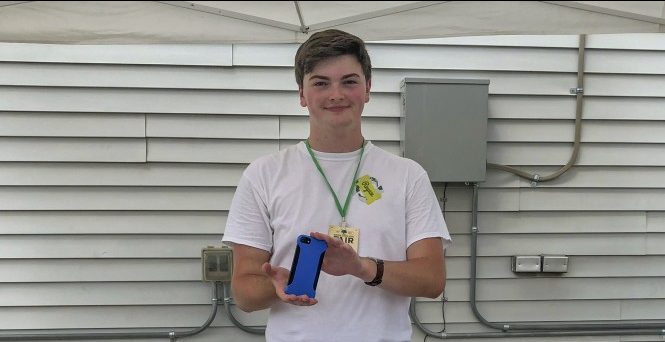 Student's business powered by recyclable phone cases
By Will Anton, Transcript Correspondent
A freshman at Ohio Wesleyan University is turning heads
with a new recyclable phone case, which is only the start to
his brilliant ideas.
Jack Foley, a freshman at OWU, is trying to change the
way people protect their phones with a special twist to it.
He has created a phone case that is entirely made out of
recycled plastic from the streets of Haiti. ReYuze is the
company's name, and it focuses on transforming recycled
plastic into phone cases. Foley originally thought of the idea
after making fun of his sister for constantly changing her
phone case.
Foley grew up around the Chesapeake area in Baltimore,
MD, and was always surrounded by water. Foley has always
been passionate about the environment, and this product
could decrease the waste in oceans around the world. The
recycled plastic Foley uses come from a small town in Haiti,
named Menelas. Every time it rains, the Haitian people must
evacuate to high ground because the streets flood with all
types of garbage. This is the main location where the plastic
is gathered before it is taken to a collection bank, which
eventually sends it to the manufacturer of the phone cases in
Maryland.
One of Foley's long term goals is to expand the business by making more high quality phone cases and helping the people of Haiti. Foley stated that he "wants to save the
world one case at a time."
Out of the many trash filled locations around the globe,
Foley selected Haiti because of its corrupt government
which does not prioritize cleaning the streets. Foley wanted
to make an impact. Another benefit of the company is that it
is giving jobs to Haitians and Americans.
Foley donates a dollar of every sale to the First Mile Coalition, which is the top charity in Menelas, whose mission is to educate Haitians about child labor and poverty.
Junior Lucas Smith has been using the ReYuze case for
several weeks.
"I always drop my phone, and I was worried about cracking another one. I love the feeling of the case in my hand, and it has done the job protecting my phone," Smith said.
"There is also a place to store my cards and OWU ID. I plan
on buying another one soon."
ReYuze has earned some great reviews and is on the
rise. Foley's ReYuze phone cases cost only $10, and they
are available for the IPhone 6, 6s, 7, and 8. His next idea is
to make the case a "lifeproof version," or even expand his
products beyond phone cases.
Foley has an office in the new Delaware Entrepreneurial
Center at Ohio Wesleyan University. His main goal is to
make a real impact on the amount of plastic that enters the
oceans. He also wants to stop the "garbage patches," which
can get as large as the state of Texas.