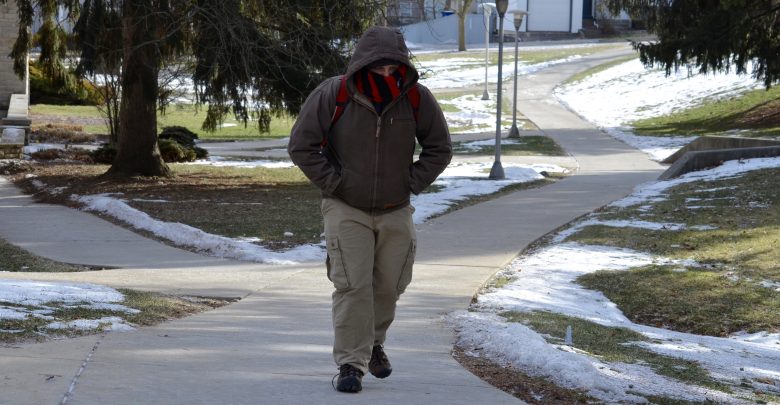 Abnormal weather causes class cancellation
Photo by Kit Weber
Updated Feb. 1, 2019 and March 25, 2019
By Maddie Matos
Editor-in-chief
mrmatos@owu.edu
Low temperatures and intense winds led Ohio Wesleyan University (OWU) to cancel classes for Wednesday, Jan. 29.
The weather is expected to be below freezing levels in the early morning, with a high of 0 F. The low is expected to be -3.  With windchill, the temperatures are expected to dip below -40 F.
The temperature is not the only factor for the cancellation, with winds expected to be very intense.
"…The National Weather Service is forecasting Wednesday's temperatures could dip as low as minus 12 degrees Fahrenheit with wind chill values as low as minus 35 degrees," President Rock Jones wrote in an email to students.
Cancellations do not happen often at OWU, with the last weather related closure happening in 2008.
"The last time classes were canceled due to the weather was the day before Spring Break, 2008 (just before I arrived), when a blizzard was approaching and the University closed early (I think at noon that Friday) in order for students to get to flights and for Spring break mission trips and athletic trips to be on the road before the weather hit," Jones said.
Another cancellation occurred due to a power outage in 2011.
Students and staff have been advised to stay indoors as much as possible. The risk of Hypothermia and other issues was another factor for the closure.
"The wind chill conditions Wednesday are predicted to be at levels that would run the risk of frost bite due to exposure for students walking from one end of the residential campus to the heart of the academic campus," Jones said. "While it is very rare that we close due to weather, these conditions make closure prudent and necessary."
Students agree that closing school was the right decision as well, for their safety.
"The majority of students walk to class and the weather conditions, especially with the wind chill, could be dangerous to students," junior Lauren Mangold said.
Classes will resume Thursday with shuttles running for students to get to class safely.