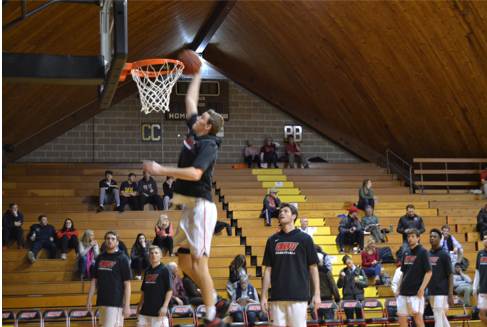 Mens basketball suffers another loss this season
Photo by Jacey Scheffel
Updated March 6, 2019
By Jacey Scheffel
Staff reporter
jsscheff@owu.edu
The men's basketball team fell at Wittenberg University on Wednesday night, 91-58. After back to back losses, the team plans to get back on track to finish up their 2019 season.
Junior Tristin Tillman and Freshman Gabe Johnson had 3-pointers late in the first half to bring the Bishops to 39 points. Trailing 10 points behind Wittenberg. Freshman Nick Carlson put up 8 points and 2 rebounds in the first half. Junior Grant Gossard contributed 2 rebounds.
Freshman Ethan Stanislawski brought the Bishops up to a 7 point trail within the first minute of the second half. Junior Jaret Gerber, Sophomore Jeffrey Hudson and Junior Jake Hecker put up 2 rebounds each.
Gossard and Stanislawski contributed 10 points each to the Bishops.
Hudson was not surprised by the difficulties the team faced against the Tigers.
"Wittenberg came out really hard like we expected, but they consistently hit tough shots and made things hard for us on offense," Hudson said.
Coach Mike Dewitt attributed difficulties to poor team play but believes the team has to learn to play away from their home court.
"I think any young team has to learn to play well on the road, especially against good teams. We are learning that lesson," DeWitt said.
The team also lost a close game to the Wooster Fighting Scots Saturday at home, 76-74.
Coming back from back to back losses does not pose a challenge to DeWitt. His plan for the team is straightforward.
"Our goal all year has been to just improve in every game and in every practice, and that still remains our goal," DeWitt said.
Student Assistant Coach Deji Adebiyi says improving as a team and individually every chance they get will help them recover from these losses.
The team stands 7th in the NCAC with a current overall record of 11-11. The Bishops plan to end the season with a winning record.
"I expect us to bounce back and play very well in these last three regular season games," DeWitt said.