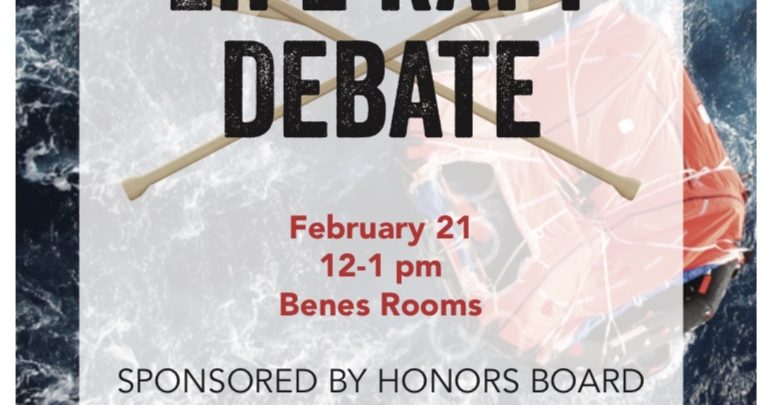 By Erin Ross
Staff reporter
emross@owu.edu
Ohio Wesleyan University's professor of zoology proved the indispensability of his discipline by winning the last remaining seat to new civilization at the Life Raft Debate on Feb. 21.
Sponsored by the university's Honors Board, the Life Raft Debate is a time-honored event for OWU's Honors Program. The debate is structured around a hypothetical post-apocalyptic nuclear wasteland in which a group of survivors are leaving to rebuild society and have one spot left on their raft, according to the description on the OWU Daily.
At the 2019 Life Raft Debate, OWU professors went head to head as they each argued why their respective discipline deserved the last spot on the life raft to a new civilization.
Faculty participants were Professor of Zoology Ramon Carreno; Mary Anne Lewis Cusato, assistant professor of modern foreign language; Nathan Amador Rowley, assistant professor of geology-geography; Kristina Bogdanov, associate professor of fine arts; and Goran Skosples, associate professor of Economics, who played the devil's advocate.
Carreno beat out his competitors for the last seat on the life raft by arguing that objective knowledge and the scientific method are the most powerful tools that humans have made.
"Pick me if you want to live," Carreno said to begin his argument.
Zoology is the only discipline from the group that provides the necessary knowledge to navigate the genetic chaos of a post-apocalyptic world, Carreno said.
A zoologist's knowledge and ability to analyze safe food and water was also a part of Carreno's presentation.
Claiming that a zoologist, who knows both human and animal anatomy, is the only individual from the group who would be qualified to perform any medical operations added to Carreno's persuasive argument.
Such knowledge would also help the new society manage the remaining insects, particularly cockroaches, which would be the predominant creature living in a post-apocalyptic nuclear wasteland, Carreno said.
Following his argument, Skosples, the devil's advocate, responded to Carreno by making fun of the professor of zoology's past research on pinworms and cockroaches. Carreno rebutted by bringing out a jar of live cockroaches and daring Skosples to hold and eat them. The audience reacted with laughter and gasps.
Different than Carreno's argument, Bogdanov, faculty participant supporting the fine arts, said, "art is the foundation of everything."
Art came before science, and artists would be necessary for designing and engineering new architecture in a new society, Bogdanov said.
Rowley, in support of geography, argued that geography and geo-locations, used in apps like Tinder, are responsible for forming human relationships that would be necessary in a new society.
Differently, Cusato, the runner-up of the debate, argued that humanities and philosophy are the foundation of critical thinking that is involved in all aspects of life and all other disciplines.
"Why choose the other when you can choose the mother," Cusato said in her closing statement.
While Bogdanov, Rowley and Cusato each presented arguments that elicited positive responses from the audience, their claims were not strong enough to beat Carreno.
"It was nice to showcase our zoology department," Carreno said after the debate. "I tried to invoke as many different aspects as I could to highlight how many things our department is actually involved in within the biological sciences."
Carreno also expressed challenges that he faced during the debate.
"All of the other disciplines are equally important to mine in the context of a liberal arts college," Carreno said. "For this reason, I did not enjoy being critical of the other faculty in the debate because I respect those disciplines a lot."
Rowley, assistant professor of geology-geography, tried to embrace such competition before the debate.  
"I am excited about it. I think it can be fun," Rowley said. "It's even more exciting knowing that a friend of mine, Dr. Cusato, will also be participating. But our friendship will end the moment the first person speaks at the event! I need to get on that boat!"
In planning the event, the Honors Board surveyed students about which professors they wanted to have participate. They then reached out to those professors who received the highest number of requests.
The Life Raft Debate was previously held intermittently from 2003 until 2014, according to Amy McClure, faculty director of Honors Board. This year, Honors Board decided to bring back the event with the hope of reclaiming the tradition.
Greg Margevicius, student Honors Board coordinator for the 2018-2019 academic year, said that he wanted to use his appointed position as an opportunity to resume the tradition.
"I think events like this are important because it gives professors the chance to take their lessons and explain the importance of those lessons in a wider context," Margevicius said.
Participating faculty agreed with the importance of such an event.
Rowley said, "I think it is important for the various disciplines across campus to express their significance, and contribution to society."
McClure, co-director of the honors board, also expressed what she and other members of the board hoped students got from attending the event.
"We hope students get to see the benefits of disciplines they might never have considered," McClure said. "We also want them to see faculty in a fun, informal environment that is still academic and intellectual."
Cusato expressed similar hope.
"My hope is that this will encourage everyone who is involved to think about and appreciate both the specificities of all divisions and the elements all academic specializations share," Cusato said. "All disciplines should inform, educate, and cultivate values. They do these things differently, but they all do them."life raft debate new conceptlife raft debate new concept (1)