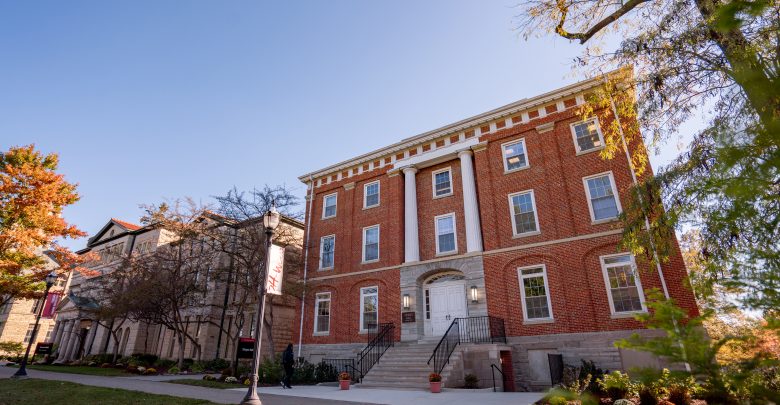 Meg Edwards
Transcript Correspondent
mmedward@owu.edu
Balloons, glow bracelets and colorful flashing rings last night brightened Sturges Hall to celebrate the conversion of a former janitors closet into a digital work space for comparative literature students.
About thirty students, faculty and members of the Ohio Wesleyan community came to celebrate the launch of Lit Hatch, a new collaborative space where students can work on digital humanities projects, which the comparative literature department has increasingly been incorporating into its curriculum.
Lit Hatch is furnished with a large computer monitor, two chairs, a small bookshelf and a wall to be used for green screen filming in the small but organized space to the left of the building's entrance.
"It used to be a janitor's closet," said Stephanie Merkel, a comparative literature associate professor who led the effort to create Lit Hatch. "We wanted to dedicate a space in Sturges Hall where our students would feel like it was their space."
OWU junior Humza Nasir, a comparative literature student board member, said he was glad the department is incorporating more technology into its projects.
"Learning how to use this tech does open a lot of doors," he said.
Knowing how to use specific technologies, such as the online publishing tool Scalar, "gives me an edge" when applying to graduate schools, Nasir said.
Although Lit Hatch accommodates only a few people at a time, the celebration took place in several rooms on the first floor, with each room exhibiting a different student project. A screening of the 1929 silent film "Woman in the Moon" ran in the snack room.
One project from the English department, a website created by Nancy Comorau, an associate English professor and other students, explored queer literature.
In another room, students could explore the blog created by students in Michal Raizen's course Graphic and Experimental Novels of the Middle East. Raizen, an assistant professor of comparative literature, said each year her class learned to navigate the platform WordPress more quickly, and that the blog was becoming a large part of her curriculum.
"More than anything we use it collectively," she said.
Some former students have continued to post and comment on the sites, giving current students a prior body of work to build upon.
Several students congregated in another room to play interactive fiction games designed by students in the CMLT 110 class, Myth, Legend, and Folklore. Designed like an online choose-your-own-adventure using a software called Twine, the games were inspired by common themes in folklore, which were then subverted to create a series of surprising twists for players.
Merkel said that incorporating tools such as Twine and Scalar help comparative literature majors apply their learning to relevant work. Some developers pay experts to evaluate game narratives, she said.
"Frankly, there are cool jobs for comp lit majors in game development," she said. "You can be a 'Happiness Engineer.'"
OWU sophomore Sarah Jonassen, an English and psychology major who attended the event, seemed to agree, and cited the folklore game as her favorite part of the event.
"I really like books," she said. "But I think sometimes the perception of English is that it's dusty old books … it's important to cater to different interests, especially since video games are so popular."