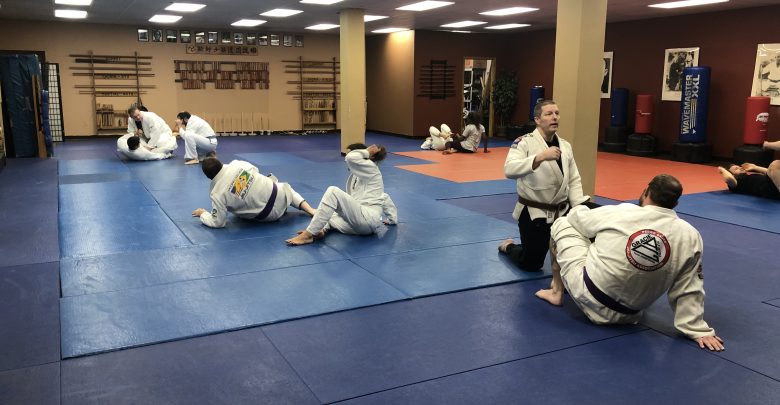 Katie Cantrell
Transcript Correspondent
kmcantre@owu.edu
Forget the flying spin kicks seen in martial arts movies, these Ohio Wesleyan classes focus on teaching students the basic skills of self-defense.
While they are not as well known, the two elective classes that teach Okinawa karate and a brand of Brazilian jiu-jitsu are popular in both spring and fall semesters.
The classes are held on Tuesday and Thursday nights and last for about two hours at the Summit Martial Arts Academy, 425 S. Sandusky St., a few minutes' drive from campus. The classes tend to have between 10-to-20 students.
Kyoshi Charles Reidmiller has taught both classes for over 10 years and said students can sign up for both or split the time between the two defense styles.  Kyoshi is a term that equals professor and designates the person as an expert teacher.
"Each one has a very distinctive philosophy," Reidmiller said. "You may be dealing with stand up (karate) and then it goes to the ground (jiu-jitsu), so you may go from one philosophy to another."
Reidmiller said students feel comfortable and enjoy themselves. The classes are respectful, controlled and even though students are doing dangerous stuff, it's a structured environment.
"They feel safe," he said. "You know it's a controlled environment even though we're kicking, punching, arm barring, and choking, but it's very controlled and you know you tap and it's done and stops instantly."
Beginners should go with their natural feeling when considering which class to take. Some may want to learn how to protect themselves on the ground, others may want to learn defense while standing, Reidmiller said.
Reidmiller said he prefers to teach the basics of martial arts over flashy moves such as flying spin kicks seen in martial arts movies. The basics are reliable and proven to work a majority of the time, he said.
"Attacks and violent crimes happen every day," Reidmiller said. "If you're going to be around water you definitely take time to learn to swim. Amazingly when you learn to defend yourself the probability of you being a victim drops astronomically."
The classes are also a confidence builder, Reidmiller said.
Junior Alex Illitch is taking the jiu-jitsu class and has been involved in the course for roughly a year. He said he now participates in the classes for his own enjoyment rather than for credits.
"It's probably my favorite activity outside of school. It's a good challenge both mentally and physically, which I like," Illitch said. "It's not just, you know, like weightlifting where you're just using your body, you have to use your mind too. It's just a unique challenge."
Illitch has never taken similar classes but offered advice to anyone interested.
"Definitely try it," he said. "Like obviously when you first start something it's going be difficult, but if you stick around for long enough you'll really get to appreciate it and have a good time."
Senior Sam Miller is taking the jiu-jitsu class and also took it when he was a sophomore. Miller said he took taekwondo when he was younger, so he had some background in self-defense before he joined the class with some of his roommates.
"This place is great, it's super chill," Miller said. "They're very understanding and they're more self-defense minded. They're not really competition based, which is good."
Reidmiller also offered some advice for interested students.
"If you show up a couple times a week and practice what you learn, even if you're the most uncoordinated … if you just can gain patience and do, it will come because you're naturally made for it," Reidmiller said.