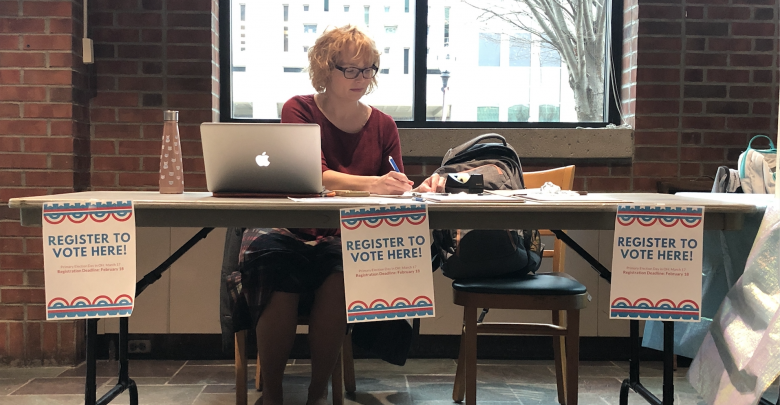 Katie Cantrell
Transcript Correspondent
kmcantre@owu.edu
The deadline looms.
Ohio's presidential primary election is March 17 and Ohio Wesleyan officials have made efforts to ensure all students eligible to vote in this year's election can register in time by the Feb. 18 deadline.
OWU promotes voter registration every election year and it has created registration opportunities on campus for both the primary and general elections.  Now, students can register at the OWU Campus Store or Beeghly Library.
And today and Monday, Feb. 10 organizers will set up a table in the Hamilton Williams Campus Center with information about voter registration. Students can also follow the link here if they have questions or are looking for information on registering to vote.
Freshman Elizabeth Dickey said this election is important so she was sure to register.
"This is the first election where I can vote so I'm actually paying attention to the candidates and what's going on," Dickey said.
Sophomore Danielle Black said she thinks this election is going to be a tipping point.
"We have gay men running, we have women running, we have diverse candidates running for one of the first times in history, so I'm really interested to see what the outcome's going to be and how it's going to affect the future," she said.
Junior Fatima Iqbal is an international student and unable to participate in U.S. elections, but she said she believes it is important for people to be registered to vote.
"Especially people 18-25, because the current data shows that 30% of those people are registered to vote and that's very low," she said. "They're the upcoming generation and if they don't vote for the correct person who's actually working for them then you know it's not good news for them."
Senior Ahmed Hamed said he believes many key issues are at stake for the future of the United States and the direction we move in as a country.
"As important as I think this election is, I also think every election is important, even the local elections," he said. "I vote in every single election that I can and I try to vote on every issue that's on the ballot."