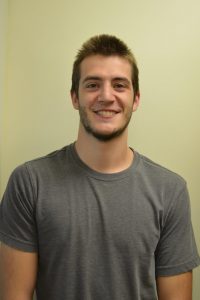 By Spencer Pauley, Managing Editor
Sometimes it never hurts to just kick the field goal, as is the case for the OWU Battling Bishops who pulled out a win against the Wooster Fighting Scots with a game-winning field goal.
The Battling Bishops held their first home game of the season on Sept. 15 and had it dedicated to Coach to Cure MD, a partnership dedicated to raising awareness of the muscle disorder called Duchenne. Despite the offense not scoring a touchdown the whole game, OWU won 9 – 7.
All of the Battling Bishops' points came from Kicker Philhower. Philhower went 3-3 with the 27 yard game-winning field goal with only 18 seconds left. Kickers need ice in their veins for high-pressured kicks like that and it seemed like Philhower had it for the entire game.
"When you go out there, your legs get numb, a lot goes through your head, you just gotta kick it." Phillhower said.
OWU Quarterback Jax Harville had a moderately successful game despite getting sacked nine times by the Wooster defense. He completed 63 percent of his passes for a total of 216 yards. However, the offense's biggest plays came from receivers Deji Adebiyi and Aaron Fields II. Both receivers combined for 107 yards and some key plays of theirs lead to the game-winning field goal.
Adebiyi would end up going to the hospital after the game due to dehydration. What will he do to improve for the next game?
"Drink a little more water, avoid cramps for sure," Adebiyi said.
The OWU defense was able to limit Wooster to only seven points for the whole game. Sophomore Cody Streit lead the Battling Bishops with 11 total tackles.
Head Coach Tom Watts was satisfied with how the game went, especially his players' effort.
"A win's a win. It's awesome. I'm proud of the guys, they played their hearts out," Watts said. "They played four quarters, you couldn't ask for much more."
When it comes to the yearly matchups with Wooster, Watts sees a consistently competitive game every time.
"It's always a good game between us. It's always back and forth," Watts said. "It's the fun part about playing in the NCAC."
The Battling Bishops (1-2) will travel to Meadville, Pennsylvania on Sept. 22 to play the Allegheny Gators (1-2).