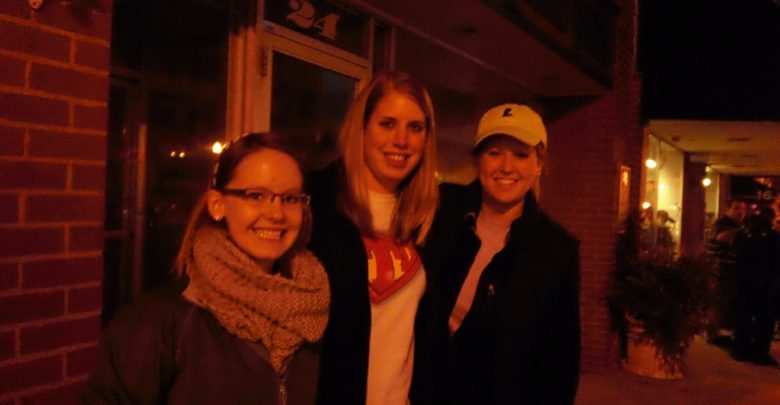 Local businesses serve sweet treats at Chocolate Walk
Mainstreet Delaware hosted its fourth annual Chocolate Walk Friday night, giving 30 businesses the opportunity to open their doors to new customers and get involved with the community.
The Director of Mainstreet Delaware, Frances Jo Hamilton, spoke about the origins of the Chocolate Walk.
"Mainstreet is a nationally based organization associated with the National Trust for Historic Preservation," Hamilton said. "We are one of 31 communities in the state of Ohio, so we all kind of share ideas. We call it, 'rip off and duplicate' so when something works really well you'll see other communities kind of following suit."
The Chocolate Walk sells 200 tickets each year at 10 dollars each.
"The money goes to Mainstreet Delaware," Hamilton said. "We are non-profit and we operate solely on individual memberships. We do get a little bit of funding from the city, from the county, but most of our funding comes from fundraisers and individual membership."
Ohio Wesleyan Director of Media and Community Relations, Cole Hatcher, volunteers on the Board of Mainstreet Delaware. Hatcher said that this year was the first year the Chocolate Walk has ever sold out before the night of the event.
"We've always sold out, but this year they went really quick," Hatcher said. "It's going to be a sweet night in Delaware."
Businesses involved in the Chocolate Walk promote their business by providing a free chocolate treat for people who are on the walk. Treats included cookies and muffins from the Central Ohio Symphony, chocolate wine shots from Vito's and chocolate donuts from Hamburger Inn.
Businesses like Fantasy's of the Flesh on Winter St. are new to the community and participate to get the word out.
Pudgie, an employee at Fantasy's of the Flesh, said, "We're doing the Chocolate Walk for the simple fact that we're new to the area and we'd like the community to know that we've (got) some pretty good guys."
Margo Bartlett of the Central Ohio Symphony said they're favorite part of the Chocolate Walk is the people coming in to the office for the baked treats.
"I think it (the chocolate walk) makes people more aware that we're here, and they can come in and buy tickets and visit us," Bartlett said.
The Chocolate Walk also allows groups to purchase a table spot on the sidewalks of Sandusky Street. Junior Ellen Defenderfer and friends were out selling chocolate treats Friday night.
"We are fundraising for Up 'til Dawn, which is a fundraising branch of St. Jude's Research Hospital," Defenderfer said. "Normally you have to pay a fee of 35 dollars to have a table out here, but they actually let us do it for free because we're fundraising for St. Jude's."
The Up 'til Dawn student group ended up raising over 100 dollars for St. Jude's Research Hospital.
Businesses also have the opportunity to offer things other than chocolate.
"I always encourage them (the vendors) to give their customers something unique if they have some sort of business focus themselves so it will emphasize their business," Hamilton said. "I also encourage them to give something to the customers that will make them come back. A coupon, an ad or a flyer."
Many businesses take Hamilton's advice. Avvio's gave customers of the Chocolate Walk a coupon for Valentine's Day, and Global Village handed out a coupon with their Madagascar organic fair-trade chocolate for 10 percent off of All Palestinian products as well as Swazi and Ugandan Shea Butter.
Other businesses offered entertainment such as live music at their location for the customers to listen to as they snacked.
Anyone who would like to participate with Mainstreet Delaware events is welcome to attend the promotional committee meetings at Beehive Books on the Thursday before the first Friday of every month at 9 a.m. or contact Frances Jo Hamilton at mainstreetdelaware@yahoo.com.