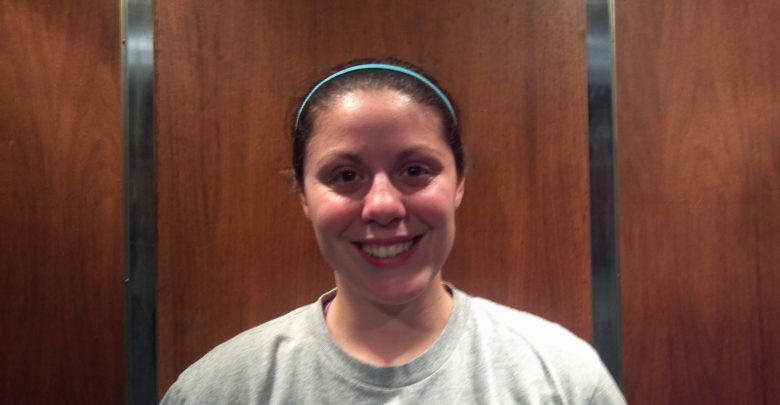 OWU track members named Athlete of the Week for great performances
Every week, the OWU sports homepage shines the spotlight on athletes dedicated to their sports as "Athletes of the Week." Last week, the featured spot on the page could not fit all the honored players. Each athlete is chosen by the North Coast Athletic Conference. This week, four OWU track and field athletes were honored.
Currently, the athletes of the week include senior Jon Rux, who was named Men's Field Event Performer of the Week, and junior Hannah Benzing, who was named Women's Field Event Performer of the Week by the NCAC.
Rux, who won first place in weight throw and shot put at the NCAC Quad at Wooster, said he attributes his success to being agile for his size, having excellent technique, and supportive coaches. He said Kris Boey, the men's and women's track and field head coach, showed him that throwing is not the individual sport it appears to be.
Boey said performing well has a domino effect; other team members will be inspired by one's performance and do well.
Benzing, who won the weight throw and came in third at the NCAC Quad on Saturday, said she started her track career with middle school long jump but "realized she was not going to go anywhere good" and switched concentrations.
Benzing said she has a different mentality than most of her teammates because of her natural ambitions.
"I don't know; I just want it," she said. "I think it's a confidence thing."
She said she was inspired by two seniors who pushed themselves.
"I don't think I would have been as dedicated to the program," Benzing said. "I could (have) foul(ed) out."
Junior Ethan Freet was the athlete of the week for the week of Jan. 23; he was named Men's Sprinter/Hurdler of the Week by the NCAC.
Freet, a two-time all-American NCAC winner, said track is a hard sport.
"The better you do, the worse you feel," he said. "I have been really, really, lucky I have had great inspirations both on and off the track. My high school coaches made sure we made good decisions … Boey will put you in a position to be successful; you just have to be willing to put in the work."
Boey said Freet is one of the easiest people to coach.
"He is extremely low maintenance, easy going," Boey said. "… There are no challenges with him … He makes my job easy. I think you can say that about most of our athletes, but he's a special one."
Other track and field athletes of the week include junior Silas Jolliff, who was named Men's Sprinter/Hurdler of the Week and freshman Katie Reid, who was named Women's Distance Runner of the Week by the NCAC.
Boey said the athletes of the week share some common characteristics.
"They want to be great, are talented, work hard (and) are in the weight room."
Boey said he also attributes some of the teams' success to self-sacrificing coaches who work at night, drive far distances for practice and don't work just to fatten their resumes.
Boey said there will always be athletes who are talented and do not work hard. He said he would not nominate those athletes for Athlete of the Week.
"In the end, they will be outperformed," he said. "It never fails. I would rather have someone with moderate talent and a great attitude and work ethic than someone who doesn't work hard. The password in our field is not talent but commitment and hard work."
Boey said the players are extraordinarily talented, and that he just recruits them.
"I can't want it more than they want it," he said.
This Friday the men's and women's track and field team are competing in the OWU open at Gordon Field House, and this Saturday they will compete in the All-Ohio Division III Championship in Westerville, Oh.
Check www.battlingbishops.com for details.