Guest choreographer brings edge to Orchesis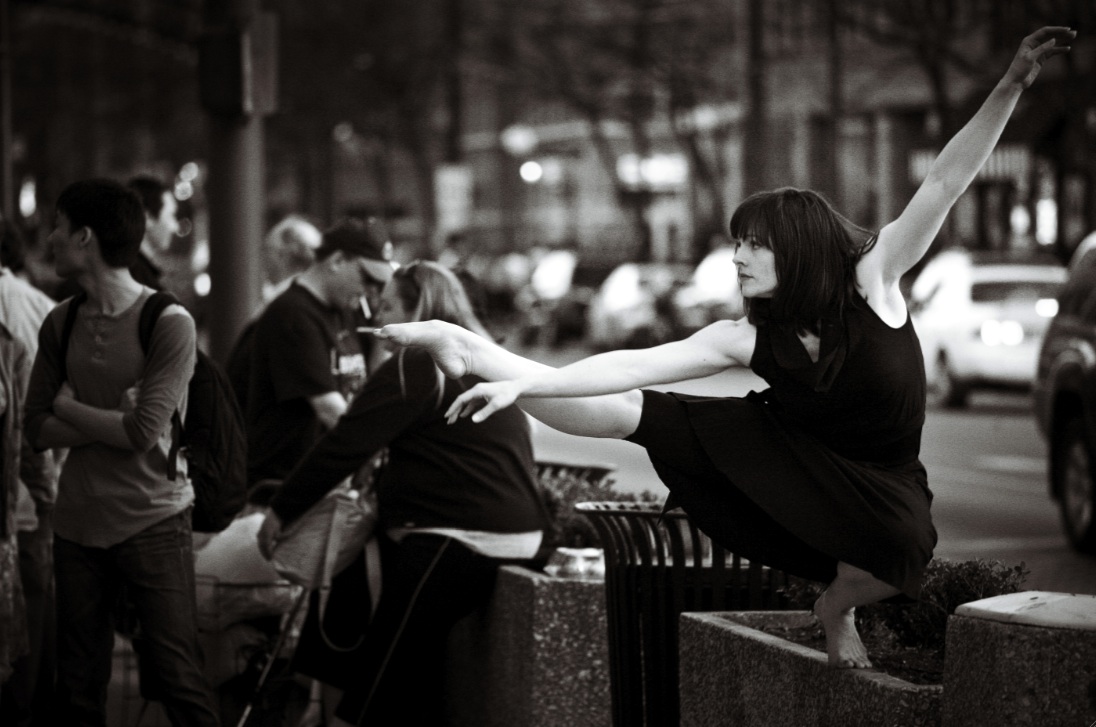 Orchesis dancers learned not only new techniques, but a new appreciation for the art of dance from alumna Kristen Jeppsen Groves, who spent a week guest choreographing.
According to the OWU website, Orchesis is the annual contemporary dance concert. The student dance company showcases the works of student choreographers along with works by faculty and guest choreographers. This year, 23 students will present 12 dances exploring a diverse range of themes.
"The concert represents the rich history of dance at OWU and opens a new chapter as talented students perform lively, energetic, thought-provoking, and always entertaining."
Marin Leggat is in her first year as assistant director of dance and artistic director of Orchesis. Leggat said she wanted to bring something different to the showcase this year.
As a new face to the OWU committee, Leggat brought in a guest choreographer to assist with one of the dances for the show. Groves is currently working as an independent artist in Italy as well as directing "Artist, Interrupted" a non-profit, art collective that focuses on supporting female artists who balance family and art life.
Leggat said Groves' love and appreciation for dance was what inspired her to bring the alumn back to campus.
"Kristen (Groves) is one of my former high school students," she said. "We laugh at this now, but at the time, she was pretty closed-minded about modern dance. Having been studio-trained, Kristen really only understood dance as a competitive sport, not necessarily as an art form. When she went to college, she ended up falling in love with artistic dance."
Leggat said she hoped Groves' presence would inspire students.
"I felt this would be a fabulous opportunity for OWU dancers," Leggat said. "Many of whom have had a dance background similar to Kristen's, to see how their studio training can be valued and also expanded to find a unique voice as a dance artist."
Groves' worked intensely with a cast of eight dancers during the first week of this semester, (Jan 16-21). From Mon-Sat, dancers rehearsed with Groves daily for three hours. She directed improvisational scores, taught choreography, and trained the dancers how to perform her particular style.
"Most viewers of my style have called it fierce, physical, complex, and athletic choreography," Groves said. "My dancing style is a fusion of precision and isolation with traditional modern dance technique. I have always loved to challenge my physical level as a dancer and most of my teaching and choreography is focused on developing athlete-artists.
Grove said her choreography embodies more than just an art form, but a gateway for political and social issues.
"Dance is about expressing ideas," she said. "Opinions, and narratives that can influence audiences to think more carefully about complex situations. Most of my work has a political focus; I love to choreograph socially-relevant work. To me, dance is advocacy, dance is a debate, and dance is persuasion."
Leggat said students were excited at this new perspective on dance but were also creatively and physically challenged.
"Kristen (Groves) put everything together during the week," she said. "By the end of their last rehearsal, the cast was sore, but very excited to be closing the concert with this high-energy piece". 

Both Leggat and Groves are confident and enthusiastic about the showcase. Groves said she hopes she can bring something new to not only Orchesis but the dance program.
"Any strong dance program needs exposure to lots of different styles of movement and different perspectives on approaching dance training," she said. "My goal was to help the students bring together a strong conceptual idea with strong choreography and movement vocabulary. My movement style is unique in terms of its physical complexity and I wanted to give the students a chance to really push the limits of their physical abilities."
"Orchesis 2012" will be held at 8 p.m. March 2 and March 3 in Chappelear Drama Center.