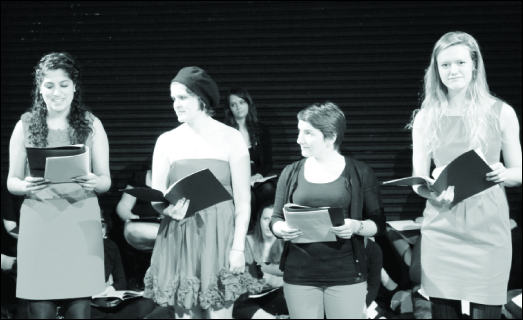 The Vagina Monologues: Performance raises awareness on women's issues
The women of "The Vagina Monologues" asked where "all the good men are" last Friday and Saturday during two sold out performances in the Studio Theatre.
"The Vagina Monologues," written by Eve Ensler, are a collection of monologues based on interviews Ensler conducted with more than 200 women about their personal experiences with subjects ranging from sexuality and female orgasms to global issues and rape culture.
In the last piece of the night, "Over It," performed by senior Gretchen Curry, Ensler calls out to men in the line, "I am over the passivity of good men. Where the hell are you?"
Junior Macauley O'Connor said Ensler's expression of frustration in this instance was "an absolutely just one."
"I think that a lot of men honestly just don't know what to do to help, and because of that they don't do anything," said O'Connor. "The thing that they don't realize is that the opportunities are out there for anybody to help out with. I know that I'm not going to wait around for more people to get involved in supporting the cause. I'm going to do whatever I can to be as un-passive as possible."
Sophomore Kate Johnson, one of the show's producers, said the lines are "a direct challenge to all men to regard violence and rape as a very serious matter, as one that shouldn't be taken lightly."
"Many of the monologues focus on issues of violence against women by men, but a lot of them also focus on the fact that the men in our lives are vital and positive forces regarding our sexual and emotional well-being," Johnson said.
"'The Vagina Monologues' want to make people aware that one in three women will be raped, sexually assaulted, or abused in her lifetime, but they also want to show that not all men are part of the problem, but rather the solution."
Johnson said that a student who attended the performance for a class approached her after the show to tell her that he had never thought about rape in the way that it was presented in the production.
Johnson said the student told her he was glad he attended and he realized the seriousness with which women regard issues of violence and rape.
Junior Leah Shaeffer, co-director of the show and actor in the performance, said that one actress's father approached her after the first night of the performance to tell her that those lines in "Over It" affected him as well.
"He was so affected by the line about the passivity of good men that he said his blood was boiling over and he just wanted to get out in the world and change every man's perspective on violence against women," Shaeffer said.
"Even if this man was the only person so affected by our performance, every minute and dollar that went into it was worth it."
Senior Mollie Kalaycio, one of the performers in the show, said she felt some men did not fully grasp what the show was trying to say.
"A lot of guys came to see us, and we were really grateful," said Kalaycio. "I feel like we touched a lot of them with the harsh facts about violence against women, but I also know that some of the men who saw it were a little uncomfortable and didn't really grasp the reality of what we were saying."
Kalaycio said she thinks if men who understood the show could talk about it with other men who might have been confused, the message could come across better.
Sophomore Gus Wood, a new member of the Women's House, read the play before seeing the performance and said he "did not anticipate the waves of emotion that true heartfelt readings of the material would bring on."
However, Wood said that as an active member of the feminist cause, he felt that some of Ensler's views were "antiquated."
"There is a large subset of men who are not only advocates against rape—many are victims of it," said Wood. "I think the message was an important one, but a little women-centric. Hopefully men who do stand on these issues will stand up and join the fight based on the performance as a whole."
Wood said he was moved by the women's performances, and he hopes the campus sees the play as a "catalyst for more active roles in feminist causes."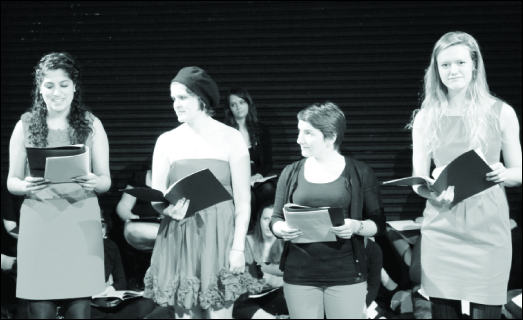 Senior Andrea Kraus, co-director and actor in the performance, said they decided to bring the production to OWU because of its relevance to the campus community.
"I wanted the show to reach an audience that included a diverse sampling of the OWU community," said Kraus. "This means people who are already involved in these issues and people who have never even heard the term 'rape culture.'"
Kraus said she hoped people took the idea that we are all connected away from the show.
"What happens to women in Bosnia affects the women of the Congo and the women in New Orleans and Delaware, Ohio," she said. "Women need to support women. Men need to support women. We need to support each other no matter what our sex or gender might be."
In addition to the play's focus on rape and sexual violence against women, the show also aimed to de-stigmatize vaginas.
Sophomore Erin Parcells said that the monologues aim to let women know that "your vagina is your vagina."
"Every female's vagina is different and that's okay," said Parcells. "It's about feeling good about your vagina and owning that."
Junior Kaitlin Lentz said she hopes the performance changed the way people think about vaginas.
"It should not be a topic that is made trivial," Lentz said. "It should be embraced and celebrated because where would we be without vaginas?"
Ninety percent of the proceeds from ticket sales and donations for the show is going to be donated to the foundation CHOICES for Victims of Domestic Violence, a program that addresses the needs of battered women and their children in Franklin County and additonally provides services to Delaware County.