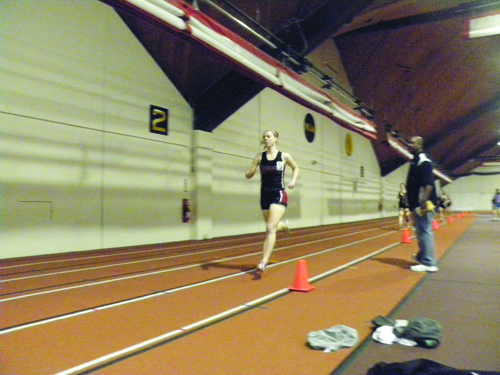 Men's, women's track clinch NCAC combined events
The Ohio Wesleyan men's and women's track and field teams each earned a first and third place finish in last weekend's indoor NCAC combined events championship at Gordon Field House.
Men's Heptathlon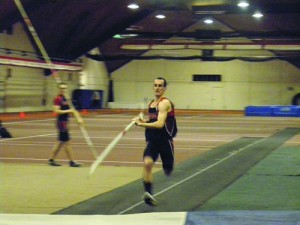 Sophomore Andrew Diehl won the men's indoor heptathlon with a score of 4465. He scored just 11 points higher than second place freshman Jack Leibovitz from DePauw. Freshman Matt Hunter placed third in the heptathlon with a score of 4426.
The men's indoor heptathlon was a two-day event on Saturday and Sunday. It consisted of seven events: 60-meter dash, long jump, shot put, high jump, 60-meter hurdles, pole vault and 1000-meter run.
This is Diehl's second consecutive win in indoor combined events.
He won the 2011 indoor pentathlon and is the first athlete in conference history to win two consecutive years in a row, Diehl said.
Diehl said the competition this weekend was good, but he credits his teammates for his accomplishments.
"This weekend was great," Diehl said. "It was awesome to have five fellow teammates there. We all supported and helped each other out. I would have not been able to accomplish what I did today without them. It was great to win but it was also great to see my teammates do as well as they did."
Diehl said he is pleased with his performance this weekend. Despite falling just short of qualifying for nationals, Diehl said he set personal bests in the 60-meter dash, 60-meter hurdles and the 1000-meter run.
Hunter said he is hopeful that his performance in last weekend's combined events will carry him through the NCAC championships.
"Personally my result gives me a lot of confidence in how I have progressed though the season," Hunter said. "I showed myself I was able to perform when it counted."
The Bishops will compete in the NCAC championship this weekend at Wabash College. Diehl said his performance last weekend will assist the Bishops in reaching their goal of winning the conference championship, but the performance of the rest of the team will be just as important.
"Our track and field team is looking strong," Diehl said. "We are ultimately trying to win the conference championship this weekend at Wabash College.
"We lost it last year after three consecutive years of winning it. We are looking to regain our spot at the top of the conference."
Hunter said he is excited for the NCAC championships this weekend. He said the team has broken records and hopes to continue their streak going into the NCAC championships.
"Our cross country team had a fantastic season and have highlighted the indoor season so far by breaking the school record in the distance medley relay multiple times," Hunter said. "The sprinters are getting faster with every race and the field events are all coming together just in time for conference."
Diehl said he will be competing in the long jump, high jump and pole vault at this weekend's NCAC championship.
Sophomore Erik Wall, and freshmen Ethien Morales and Jon Overstreet also competed in last weekend's heptathlon.
Women's Pentathlon
Junior Emily Amburgey won the women's indoor pentathlon on Sunday with a score of 2732. Junior Clare Duffy placed third with a score of 2666.
The women's pentathlon consisted of the 60-meter hurdles, high jump, shot put, long jump and 800-meter run.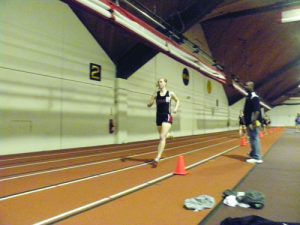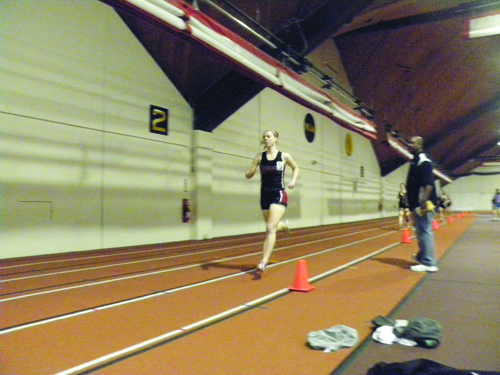 The Bishops swept the 60-meter hurdles with sophomore Sarah Bechtel placing first with a time of 9.61 seconds, Duffy in second at 9.68 seconds, and Amburgey in third at 9.69 seconds.
Bechtel also won the long jump with a leap of 15'7".
Amburgey said the women's team anticipates the multi-event competitions because they get to compete in a range of events that they normally do not get to participate in.
"The competition is very friendly," Amburgey said. "Usually it's the same girls from the same schools every year, so we get to know each other pretty well. I like that we can have good camaraderie with the other competitors because it makes it a lot more fun."
Amburgey said she had an Achilles tendon injury that kept her from reaching her full potential in the high jump and long jump, but made up for it in the other events to win the pentathlon.
Amburgey credits the rest of her team for her success.
"I think our team's strong point is our closeness; we are like a family," Amburgey said. "I know that I would not have done as well as I did yesterday if it weren't for the other multi-eventers and my teammates that came to support. The support really does go a long way, and it means a lot to us."
Duffy said she hopes to carry her momentum from last weekend's multi-events to the NCAC championship this weekend.
"This is the best I've placed in the multi-events in the past three years so it's a great start to this coming weekend and the rest of the conference meet," Duffy said.
Duffy said the women's team is in great shape to bring home the NCAC championship this weekend.