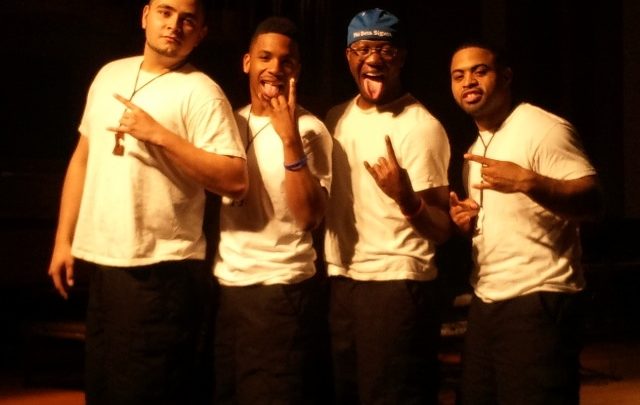 Phi Beta Sigma strolls for a victory: Fraternity performs to raise money for Black Student Retention
Phi Beta Sigma won the stroll competition at the first annual Crossroads Show.
Despite the late start, technical difficulty and low turn out, organizers of Crossroads said the event was a success.
Crossroads was held Saturday, March 31 in Gray Chapel.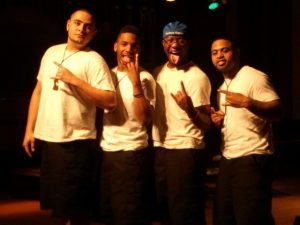 The first annual Crossroads event was a collaborative effort between Student Union on Black Awareness (SUBA) and Campus Programming Board (CPB).
In previous years both organizations have been responsible for their own shows.
For the last 30 years CPB has put on the annual Spring Fest show, presenting artists such as rappers Ghostface Killah, Sam Adams and ska band Reel Big Fish.
The event has generated money for students, campus events and clubs.
For the past 14 years SUBA has brought Step Show to campus, the proceeds earned from the show go towards the Black Student Retention Fund.
The fund allows students of color to stay enrolled at Ohio Wesleyan who have financial struggles.
Of all the committee's philanthropy projects, Step Show has always been the highest-earning philanthropy event.
Generally the show consists of a strolling battle (where Greek life show pride for their organizations through dance, stomp and strolling competitions) and headliner performers in previous years have included; hip-hop artists such as T.I. and Lupe Fiasco and R&B artist Jeremih.
Senior Gene Sludge, co-president of SUBA, said it has become less about entertainment and more about history and tradition.
"It's about bringing culture to OWU and the entire Delaware community," he said.
This year, neither committee was going to receive funding from WCSA, because in previous years, the turnout out and revenue generated by the two events were not up to the university's standards.
The two organizations thought it was best to collaborate on an event rather to get rid of both of them entirely.
Junior Kelsey Brewer, president of CPB, spoke at a meeting earlier in the year to address the importance of having the events.
"We had the option to stay separate and walk away, but both events are too important and we wanted to keep them around," Brewer said.
According to Sludge, the purpose of the collaboration was to show WCSA and the campus that the two events could be successful and go their separate ways in the future.
The show was DJ'd by DJ Max Ridden and had performances by winner of the battle of the bands, "Hairy Tribe of Conquerors;" a stroll competition between Delta Zeta and Phi Beta Sigma; opening act HelloGoodbye and the headliner of the show, hip hop and R&B singer Lloyd.
The event was scheduled to start at 7 p.m., but due to the late arrival of Lloyd and technically difficulties during sound check, the show didn't start until 8:30 p.m. Many students left the event because they were upset because of the weather and late start.
Freshmen Megan Rivera said she left, but then decided to come back and was happy she made the decision.
"I was pissed I came on time and we had to wait outside," she said. "It was so cold outside; I went back to my room and came back. I had so much fun though I wish my friends would have stayed too."
The opening act was "Hairy Tribe Conquerors," and they played some original songs along with a medley of other songs.
Following the performance, the strolling competition between Delta Zeta and Phi Beta Sigma began. There were two rounds of competition, with three guest judges to determine the winner. The DZs performed throughout the aisles and in between the crowd.
Freshmen Caroline Welker said she didn't know the fraternity and sororities on campus strolled.
"It was really cool to see," she said. "I've never seen strolling before, they were both really good–the guys were a little better though."
The judges agreed with Welker as they announced the Sigmas as the winner of the battle. Junior Ray Perez was a part of the stroll competition and said even though the DZs lost, they really represented their organization well.
"We (Sigmas) have been strolling together for a while," he said.
"The DZs had to put together a routine pretty quickly, they should be proud they really represented. It felt good to bring awareness to OWU about the Divine Nine and Greek organizations. It was a good time and a great cause."
After a brief intermission and a set from DJ Max Ridden, HelloGoodbye took the stage to play original songs from their album, "Would It Kill You?"
Junior Briana Perez said she had never really heard of the band but she thought they were good performers.
"I'm really picky about vocalists," she said. "I thought the lead singer had a really great voice, I couldn't understand the lyrics but he sounded good and the crowd was really involved."
Everyone took to their feet as the band played their smash hit, "Here in Your Arms."
Finally to take the stage was the headlining act R&B singer Lloyd.
In a more intimate performance, the crowd came closer to the stage.
Interacting with the crowd Lloyd jumped off stage danced, spoke and sang with the crowd.
Welker said it was the best part of the show.
"Lloyd dedicated a song to me," she said. "he came out into the crowd and grabbed my hand, after the show I went back stage and met him. We took pictures and I kept his sweat towel, I still can't believe it, it was the best night."
Sludge said despite the difficulties organizing the event he believes it was successful and is hopeful for the future.
"I believe SUBA and CPB did there job on putting on an amazing show under the given circumstances and stipulations," he said. "Although I wish more students would have came out to the event. It will only improve in the future."