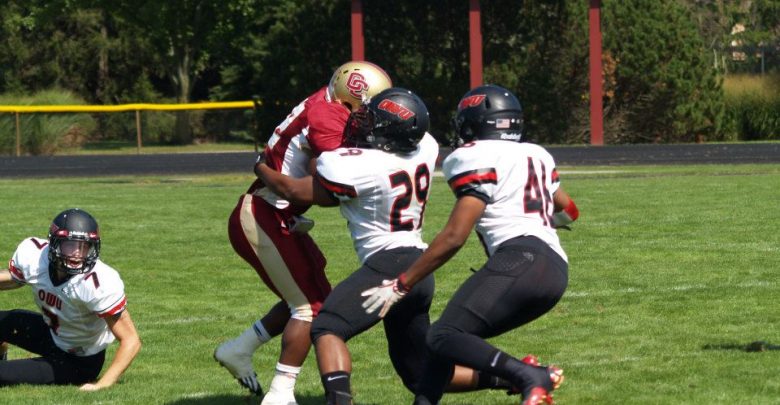 New football coach invigorates team
By Tim Alford
Transcript Correspondent
Ohio Wesleyan's new head football coach Tom Watts began the season with wins against Denison University and Oberlin College with the help from junior quarterback Mason Espinosa, who broke two long-standing records.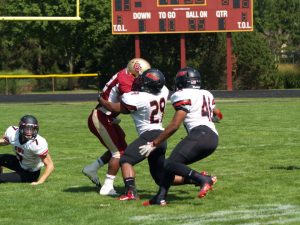 Espinosa became OWU's all-time passing yards leader and all time passing completions leader in the first game against Denison.
These records were previously held by Jay Hood from 1982 to 1985.
Espinosa said he did not know he broke the records and he tries not to keep track of those statistics.
Watts said Espinosa is the "backbone" of the team's offense, but he also has a great group of other offensive players around him.
Espinosa said the team is focusing on coming together because it takes all 11 players to make a play successful.
"We have some phenomenal players on the edge and in the backfield that can really be playmakers and our offensive line has been working extremely hard and is poised for a big season," Espinosa said.
"If we continue to do this and play to the best of our ability every week, this season can be special."
Watts said the team can continue to be successful if they focus on each game individually.
"Our expectations are to go 1-0 every single week," Watts said. "When you look forward to games, that's when things can go awry."
Junior George Newcomb, a starting defensive tackle, said the mindset of the team is the key for their success.
"Key points for us as a team are just to be relentless all the time in practice and in games," Newcomb said. "We must have a mindset to know that we can and will go undefeated and make the playoffs if we do our jobs and do it to the best of our ability every day."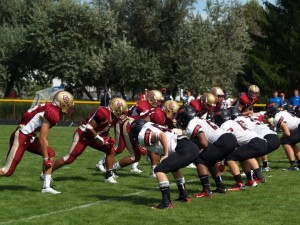 Espinosa said having Watts as the new head coach brought a new attitude to the team.
"Coach Watts brings a sense of excitement and enthusiasm for the game every day and that is something we feed off of as a team," Espinosa said.
"Every day we are doing a new drill or a different competition that keeps you on your toes and keeps us working at practice. Coach Watts has also really put an emphasis on team chemistry and has given us a sense of pride in playing for this University and I think that has made all the difference."
Newcomb said Watts has the team working harder this year than in previous years.
"Coach Watts has really brought a new mentality to the team and everyone seems to be working much harder this season with him as our coach," Newcomb said. "We all have tremendous respect for him and want to work hard and do whatever he tells us in order to win games this season."
Senior James Huddleston, a starting defensive end, said Watts has brought a different energy to the team.
"Coach Watts has been a phenomenal influence for the OWU football family," Huddleston said. "He is a very observant coach and really stresses the importance of details."
According to the OWU athletics website, Watts spent the last three years as the special teams coordinator, defensive backs coach and recruiting coordinator for the football team at Baldwin-Wallace University.
Watts also worked as a defensive coordinator at both Westminster College and the University of Wisconsin-Platteville. The website also said Watts is only the 6th head football coach for Ohio Wesleyan since 1920.
Watts said each position he has held has helped him in his transition to being a head coach.
"I have taken a piece from each step," Watts said. "It's a lot of hard work from me, my staff, and my players."
"We are moving as fast as we can to make the best team we can this season. The players, staff and administration have been through the roof and incredible."
The Bishops play their first two home games on Saturday, Sept. 22 at 7 p.m. against Case Western Reserve University and on Saturday, Sept. 29 at 7 p.m. against Hiram College.