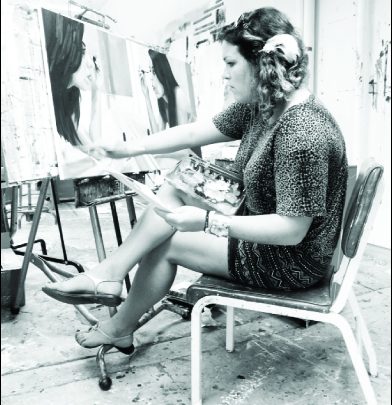 Art collaborative explores femininity
By Taylor Stoudt
Transcript Reporter
Women's bodies have always been a hot topic of discussion.
Whether it is the many things the female body can do or the rising number in body image disorders, it is something people notice.
However, four fine arts students have taken the discussion and turned it into art.
Seniors Chelsea Dipman, Allyson Hays, Chelsea Leeds and Danielle Muzina are the featured artists in the "Women by Women" exhibit in Edgar Hall.
The series consists of 19 paintings and drawings depicting women in a range of poses and varying from fully clothed to completely nude.
One of the models featured in the show is senior Carly Hallal.
"I definitely had some hesitation because I was in my underwear when (Dipman) was taking the pictures," Hallal said.
"I knew that they were going to be all up over the school but at the same time it's quite an honor to be hanging up in a gallery and she does such a great job."
A shared desire throughout the artists was the desire to convey the beauty and strength they see in the models as women who impact their lives every day.
"Personally, I chose models who are women in my life who I admire," Leeds said.
"I am surrounded by strong, independent and driven women and my motive for painting them is to be able to portray their personalities and those qualities in my paintings."
Each of the artists made the decision to create pieces using female models during their second and third semesters of college painting.
It was not until later that the overlapping themes were taken notice of by the artists and a collaborative show was presented as an idea. A collaborative show was planned thereafter.
"Women by Women" exists because of a shared fascination with the bodies, lives and intricacies of women," Leeds said.
"As a woman, painting the women in my life who I have admired has also allowed me to reflect on my own self."
"There is a personal connection with the piece because of the subject matter that encourages an inner struggle."
According to Leeds, her fascination in the female form has been progressing since she first came to college her freshman year.
However, for Dipman, the inspiration was sparked unintentionally.
"At the beginning of last year I struggled with finding something I was passionate about painting so one day I just ripped out a page from a Victoria's Secret catalogue," Dipman said.
"What I discovered by painting these models was that their bodies were so contorted and the angles of their bodies reflected what society has decided women should aspire to look like."
"It was then that at the end of the semester and into the spring that I began to paint real women around me. I chose these women because they were more than just beautiful on the outside; they all had an inner beauty as well," she said.
"Women by Women" is currently up for viewing in the Werner Gallery of Edgar Hall and there will be a formal reception held on Wednesday, Oct. 10.