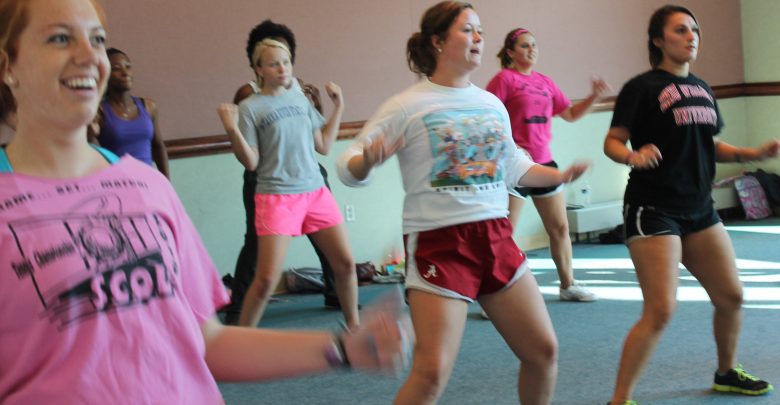 Zumba blends Latin music, dance to stay fit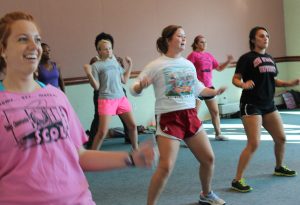 By Sadie Slager
Transcript Reporter
Ohio Wesleyan students now have the opportunity to test their dance skills with a popular Latin-infused cardio workout.
The Healthy Bishop Initiative, a campus program which enforces balanced and healthy lifestyles among students, is hosting Zumba classes in Benes Room A. Every Monday from 4:30 to 5:30 PM, students can try Zumba for a fee of five food points.
The start of a Zumba class at OWU is evident of the program's growing popularity as a cardio workout. Zumba uses a blend of Latin dance music and Grammy-Award-winning music for a unique "dance fitness" experience. The program was originally developed in 2001 by native Colombian Alberto Perez and has since gained popularity throughout the US. The Zumba trademark has been successful in its classes, DVD sales and "Zumbawear" apparel sales.
While there are currently eight types of Zumba classes offered around the US and other countries, The Healthy Bishop Initiative offers the "Zumba Fitness" program instructed by Bobbi Huston. Huston is a Zumba expert with Urban Active fitness center in Columbus.
Junior Sarah Jilbert of the Healthy Bishop Initiative called Huston "fantastic."
"The students seem to respond really well to her," Jilbert said. "She makes the sometimes-tedious task of working out seem really fun!"
Jilbert recalls a large turnout for the first two Zumba session as 26 students attended each time. Jilbert said the Healthy Bishop Initiative started the Zumba class as a new fitness option on campus and the class will run throughout the semester and possibly into next semester as well.
"Zumba is an up-and-coming fitness class that seems to interest many students," she said. "So we thought it would be a good thing to try."
Jilbert first tried Zumba this summer and said she wanted to get involved with organizing the class this year.
"Everyone kept talking about how fun and easy it was to get started," she said. "So, I gave it a try, and loved it."
Sophomore Abby Reynolds attended the first Zumba session, held on Sept. 10.
She said she really enjoyed the first session and that it was a lot of fun. Reynolds had tried Zumba prior to OWU's first session and said she hopes to continue attending the class in upcoming weeks.
"I would attend the class every day if that's when it was offered," Reynolds said.
Reynolds stated that Zumba is different from other workouts because it works the whole body and is fun at the same time.
Freshman Kelsey Thornton tried Zumba for the first time at The Healthy Bishop Initiative's first class. Thornton said it was "energetic and sexy!"
"The music is so upbeat and fun!" Thornton said.
Thornton said the class was similar to a dance class and the "bootylicious-ness" is what makes Zumba so appealing as opposed to more traditional cardiovascular workout methods.
Sophomore Elizabeth Simmons also first tested her hand at Zumba through OWU's class. Simmons, a member of the women's volleyball team, said the class was a lot of fun and a good way to work out with friends.
"Zumba provides a great cardio workout but it doesn't feel like cardio," Simmons said. "You can actually enjoy working out as opposed to feeling like you're running for an hour and just want to stop."
Simmons said she didn't want the class to end and will definitely attend future classes once volleyball season is over. She said Zumba has become so popular recently because it allows people who aren't stellar dancers to try a different form of cardio.
"It's a workout that you can enjoy while you're getting in shape," she said.
The next Zumba class will be held on Monday, Sept. 24 and is accompanied by several other Healthy Bishop Initiative endeavors. Jilbert said these include the fitness bikes in the old location of Welch café and signs on academic buildings alerting students to how much they have just walked from the residential side of campus. Jilbert and the Healthy Bishop Initiative are also in the process of starting a spinning class for students and will host their annual Healthy Bishop Day again this year.
More information can be found at the Healthy Bishop Blog at blog.owu.edu/healthybishopblog.