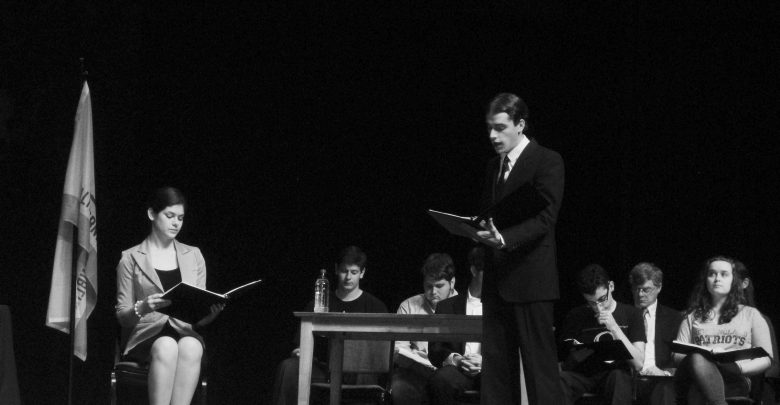 OWU brings Prop 8 trial to the stage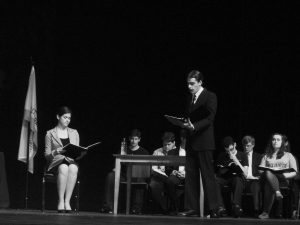 By Breanne Reilly
News Editor
Last Saturday at 8 p.m., Ohio Wesleyan students brought the fight over marriage equality to Chappelear Drama Center's main stage.
Students preformed "8," a play based on the 2008 Proposition 8 case in California. The play was written by Dustin Lance Black and narrates the trial of Perry v. Schwarzenegger, the case filed by the American Foundation of Equal Rights to overturn Proposition 8 because it prevented same sex couples from getting married.
Students read trial transcripts that included both sides' testimonies and interviews with the plaintiffs and their families. According to Chaplain Jon Powers, who played U.S. District Chief Judge Vaughn Walker, each of the 25 cast members researched their roles to get into character, no matter which side they supported.
The main stage was set to look like a courtroom with the plaintiffs sitting on the audience's left, the defendants on the audience's right and Judge Walker's bench set between the American and the California flags.
The witness stand, an ordinary classroom desk, sat at the forefront of the scene. Although the scene was set and the actors were in character, senior Leah Shaeffer, director and social media coordinator of "8" said it is not just a play.
"I know this is a courtroom drama, but it is also very human," Shaeffer said.
The student actors provoked their audience, which was a compilation of 304 students, faculty members and Ohio residents, to consider both sides of the argument about the legalization of same-sex marriage.
The plaintiffs argued that marriage is a fundamental human right. The defense argued same-sex marriage would ruin the institution of marriage, cause familial life to unravel and harm children.
Junior Alex D'Amore-Braver said he did not agree with certain statements in the play, such as the idea that legalizing same-sex marriage will protect children with parents of the same sex from discrimination.
He also did not agree with the defense's claims that same sex marriages could invoke harm.
"It's just ridiculous how Proposition 8 supporters claimed children and procreation could be hurt by marriage equality," D'Amore-Braver said.
Sophomore Ryan Haddad, the show's producer, said the production's purpose was to provide information on Proposition 8 and same-sex marriage, no matter a person's stance on the issue.
"I'd like to hope we could shift people's point of view to be in favor of it, but it was, for me, more about giving people the dialogue and a forum to talk about it," Haddad said. "Especially since it's so relevant to right here, right now."
Ohio resident Barb Zeller said she and her husband found the performance on the EqualityOhio Facebook page and drove two and half hours to see the production.
She said she has been a marriage equality supporter and the production reaffirmed her opinion on it.
"Same-sex marriage should be recognized across the country as a basic human right," Zeller said. "It's an important right, and an important issue. I'm impressed the university allowed it to be performed on campus."
OWU is the first college in the state to host the production. Ohio state law strictly defines marriage as a union between one man and one woman. Same-sex marriage is not legally recognized. Marriages of same sex couples from other jurisdictions are also not recognized in Ohio.
A poll conducted in 2004 showed more than 3 out of 5 voters were against same-sex marriage. As of 2012, FreedomOhio, an organization dedicated to ending marriage discrimination, is working to place a proposal on the 2013 ballot to amend the state constitution and guarantee two consenting adults, regardless of sexual orientation, the right to marry in the state.
In a post-show talk-back, junior Margaret Knecht, marriage equality supporter and "8" stage manager, said she enjoyed putting on the production, but she wishes Ohio law did not discriminate against same-sex couples.
"I am so passionate about this issue, but I hate that I have to be," Knecht said.
Senior Ariel Hively said the play was a "huge step in the right direction" towards marriage equality. She said it showed "marriage is for any two people who think their relationship is important."
Students from the Spectrum Resource Center, Women Resource Center and PRIDE tabled before and after the event to raise awareness about their groups and to answer questions about sexual discrimination.
Junior Ian McCaslin, a member of Spectrum, said the play addressed the fact that same-sex couples have to introduce each other as partners instead of as husband or wife.
He said when many people hear the word "partner," they link it to businesses or teams, not to two people who are in love.
McCaslin also said the play demonstrated the societal struggles gays and lesbians can face on a daily basis.
"It does show how difficult it is to come out in society," McCaslin said. "There is that risk of an awkward or hostile reaction."
When asked whether students have received any hostile reactions toward their production, Shaeffer said there has not been any.
According to Haddad, people reacted positively to the show. Although tickets were free, people donated $212 towards AFER.
He also said those who participated in the post-production survey wrote that they "learned a lot" and the play was "funnier than they thought it would be."
Haddad said he would like to perform the play again in a couple years if he can work it into the theatre schedule.
He said the show would be different the second time around because the play is always changing and evolving as the case is debated.
"The issue is destined to go to the Supreme Court, Haddad said. "Will it be these people? Will it be the Proposition 8 case? I don't know. There will be other cases. I hope something bigger will happen."
The play "8" will be performed at Toledo College and the Ensemble Theatre in Cincinnati this fall.