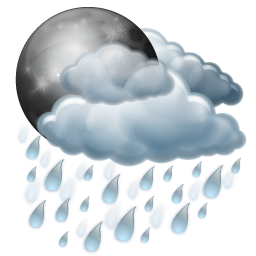 Sloppy spring dampens seasons
When thinking of spring sports, bright sunny days and lush green fields usually come to mind.  But this year, unpredictible weather has spoiled that image.
From the polar vortex to severe rain, the Bishops sports teams have had their fair share of hardships this year.
According to the National Weather Service, wind chills were the coldest Central Ohio has seen since 1994.
"Our first game of the season against Otterbein was the coldest I've ever coached in," women's lacrosse coach, Chelsea Huguenard, said.
However the weather woes didn't end there.  According to Athletic Director Roger Ingles, the men's lacrosse team borrowed sideline heaters from Ohio State for their game against Aurora.
"Though Otterbein was rough, in ten years of coaching, our game this year against Wittenberg is the worst I've ever been a part of," Huguenard continued.
"When I'm hurting due to hail hitting me in the face, I know our athletes are having trouble.  Without a doubt the craziest weather I've seen."
Ingles pointed out that less-than-ideal conditions are not abnormal to Ohio.  The athletic department tries to prepare ahead of time and plans to reduce its impact.
However, according to Ingles, this year has been worse than normal, making the support of Bishops athletics a bit harder.
"The spring season is the shortest already, so we try to reduce cancellations to give our players consistency," he said. "This is especially important for our baseball and softball players.
Both are sports that are meant to be played more than practiced. Pitchers need to throw and it can be tough for hitters to stay sharp with a lot of time off."
While it is most important for baseball and softball to have consistency, they also are the spring sports that get impacted the most.
Baseball thus far has had to postpone or cancel six of the 24 games on their schedule, while softball has pushed back five of their 27 scheduled games.
"Lacrosse plays on an all weather field, while tennis and track have the ability to move inside if need be," Ingles said.
"Slick base paths and pitching mounds however can cause serious injury concerns, especially if a pitcher is throwing hard and slips."
According to Ingles, Littick Field and Margaret Sagan field drain incredibly well, and he said if any fields in Ohio are playable, it's likely to be ours. But head athletic trainer Todd Miller has a set of safety standards that must be met in order for teams to be allowed to play.
Huguenard stressed that while weather has been crazy, it is important to not blame anything on it or allow it to get team moral down.
"Your opponent is going through the same thing and we play in everything except lightening.  We have to practice in everything in order to be mentally prepared to face bad conditions in a game," she said.
"Last year we started to practice outside only a week before our first game.  This year we went out four to five weeks before our first game, when it was still five out. That preparation gives us an edge."