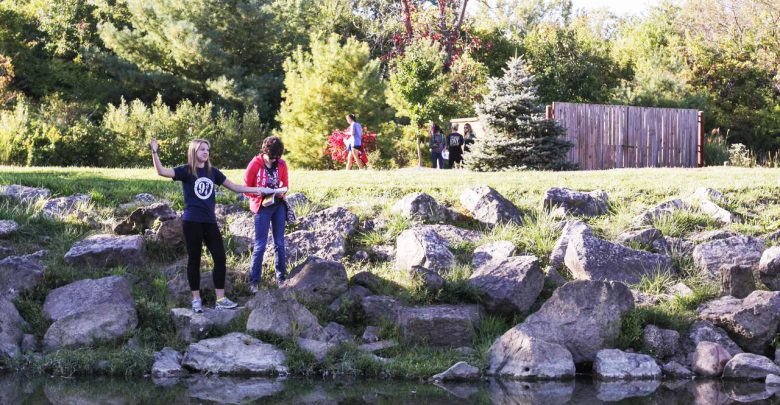 Walking on the Olentangy's wild side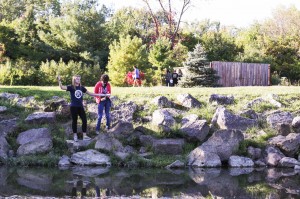 Next to a bustling highway, Ohio Wesleyan students and faculty explored the tranquil biodiversity of the Olentangy River.
While exploring, students took samples of foliage, poured weak acid on rocks, ventured into the water and even tasted wild carrots.
The event, Walk on the Wild Side, was hosted by the American Landscape Course Connection (ALCC), which sponsors a landscape-based event every semester. It took place on Sept. 23 from 5-7 p.m.
Geology Professor Karen Fryer said she liked the "juxtaposition of the natural and the human contribution." The most beautiful thing Fryer said she saw was a blue heron in flight.
Students participating were split up into groups of eight, given instructions, a sheet to identify plants, and binoculars before setting out.  Along the river, areas roughly 100 yards long were marked for students to observe.
Several classes participated and therefore were looking at the land in a truly interdisciplinary way.
"Well, with the help of the botany majors I was able to identify pretty much all the plants," said junior Scott Woodward.  He said that he would have only been able to identify a few without them.
Junior Daisy Von Glaeser is in Professor David Johnson's Biodiversity of Flowering Plants course and said her group "only saw one or two native plants".
One of the groups saw a few historical markers, one marking a place the Underground Railroad passed through.  Another marked the site of Ohio's Worst Natural Disaster, a 1913 flood where about 20,000 homes were destroyed and more than 400 people died.
One student even found a stone with a "W" etched into it as the mason's mark.
Freshman Sharon Hayes, who is taking Geology 110, said that she was able to identify a few rock specimens. "We found calcite, we got a weak acid from Fryer, poured it on the rock and it reacted," she said.  A few people in her group ventured into the water and saw minnows, freshwater clam shells and some crawfish, she said.
One group saw a single person tent and realized they were no longer surveying "the wild" but also someone's makeshift home.
Planning for the event took place at a meeting of ALCC faculty in August said coordinator English Professoor Lynette Carpenter.  "We started with the bioblitz concept of recording every species and expanded it to include, for example, geological concerns and cultural artifacts, as well as sound and touch and feelings." said Carpenter.
The event's aim was to promote course connections and "to let students experience a multidisciplinary approach to the landscape and have fun doing it," said Carpenter.
After groups spent roughly 45 minutes exploring their segment of land, they returned to the Science Center Atrium for snacks and refreshments.
Each of the six groups sent pictures to professor of music Nancy Gamso, who put together presentations on site.
"I thought students seemed interested, and invested in their presentations, which went very well, so I was quite pleased with the event," said Carpenter
"An interesting take-away was that there were both commonalities and distinct differences along different stretches of the river," said Fryer.
Overall, the event was positively received.
"I got to walk outside, I got to identify plants with my friends, and I got to eat some snacks," said Woodward.