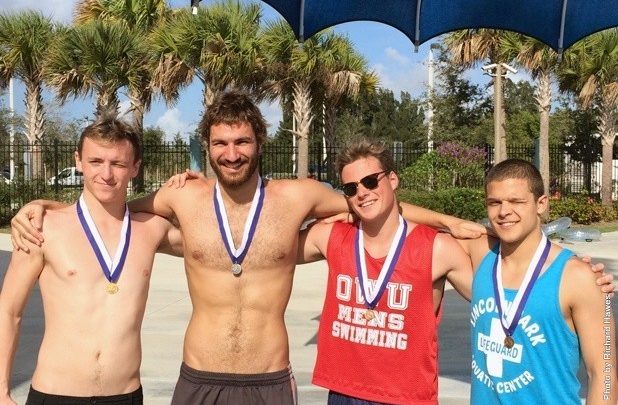 Men's swim team brings home more than just tans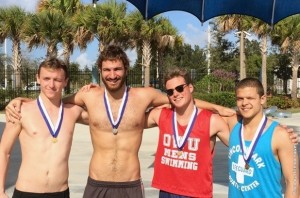 The Ohio Wesleyan University men's swim team made its way down to Florida where they trained hard, enjoyed the weather and won a few medals along the way.
"It's my favorite part of the season. It was great heading down there," sophomore Will Paull said. Paull medaled in the Sidney S. Asher Cup, a 100-meter freestyle event, at the Bob Mowerson Sprint Meet beside teammate and fellow sophomore Greyson Goodwin who won the race.
The team competed in the meet after training in Stewart, Fla. The meet took place at the International Swimming Hall of Fame pool in Fort Lauderdale.
"We have a good group of people. It was great to be with the team in above-freezing weather," Goodwin joked.
Paull and Goodwin were two of four Battling Bishops to medal. The others to medal were juniors Bryce Uzzolino and Andy Cumston.
Uzzolino and Cumston both medaled in the William Post Sackett Cup race, a 400-meter event. The race is famous for allegedly being won by Olympic and American national champions alike. Uzzolino finished in second with Cumston finishing in third.
"It's always fun to win, especially in something like that where you get this cool medal," Uzzolino said.
Upon returning home, OWU lost a close dual meet to the College of Wooster and rebounded by defeating John Carroll University handedly.
Now the Bishops set their sights on the NCAC championship with only a few more dual meets left in the season. The NCAC tournament begins on Feb. 11 and lasts through Feb. 14.
"Right now we are really focused on our conference meet which is in mid-February. Right now that's what our drive is towards," Uzzolino said. "It's pretty much the final push towards the end of our season."