By: Ross Hickenbottom, Transcript reporter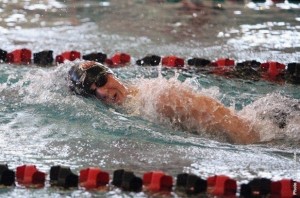 The Ohio Wesleyan men's and women's swimming and diving teams participated in the Kenyon Relays this Oct. 24 in Gambier, Ohio.
In the men's meet, the Kenyon Lords won their annual home opener with 124 points. OWU finished fifth with a total of 44 points.
The Denison Big Red won the women's meet, scoring 120 points. OWU finished with a total of 16 points, placing seventh.
Junior Greyson Goodwin, was a part of the fourth place 200 meter freestyle relay team. He said the team's hard practice week paid off.
"Our teams performance was representative of the amount of work we've put into our practices," Goodwin said. "The team defied the expectations we had, and managed to come together to have an exceptional meet."
Freshman Shannon Bermingham's introduction to collegiate competition did not disappoint.
Bermingham, from Orchard Park, New York, said the electrifying meet was of a caliber she had never experienced before.
"After the meet I was very tired, but it was a great feeling to have a team fully behind you and cheering you on," she said. "I loved the atmosphere and I've never had support like this before. I thought we did really well as a team."
Bermingham plans on giving this season her all. She will be happy, regardless of the results, "as long as I have my coach and my teammates by my side anything is possible, even the hardest of times."
Despite only being in the water for around five weeks, the Battling Bishops were very impressed with their results, but agree that improvements can be made.
Freshman Alicia Margello, a member of the 400 medley relay team that finished eleventh, now knows what it's like to finish at the end of the pack. She plans on "improving by working hard throughout the season during practice."
With the first meet on the books, both the men and women look to improve their results for their upcoming home conference opener against Wittenberg College on Saturday, Oct. 31.