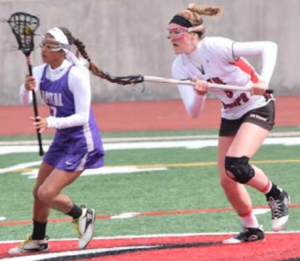 Olivia Lease, Online Editor
A bittersweet feeling was left on the field on March 19 as Ohio Wesleyan's women's lacrosse team rallied against Capital, but was ultimately defeated in the last quarter. At Oberlin, the men's lacrosse team took home another win.
Both teams had the opportunity to travel over spring break: the women's team to San Juan, Puerto Rico, while the men's team went to Maryland.
Clouds blocked out the sun and a chilly wind kept spectators at Selby Stadium alert as the women's game played.
Capital, ahead by 4 points at the start of the third quarter, made it a difficult match.
"The game against Capital was a tough loss since the score was so close, but everyone on the team gave it their all which is all that matters," said freshman Sofia Corrao. She contributed 2 assists and scored 2 goals by the end of the game.
Sophomore Cory Anna Kinder Kinder led the Bishops with 3 goals.
Head Coach Chelsea Huguenard said, "Our goalkeeping from both Natalie [Reddy] and Kelly [Coffyn] kept us in the game.  Our second half we played much better on the offensive end, but it was just not enough." The final score was 13-11.
Meanwhile, at Oberlin, the men's lacrosse team won their game with a final score of 19-9.
The Bishops had an 11-0 run to start the game. Within the first minute of the game, freshman Jack Harvey scored a goal, giving the Bishops a nice lead.
Freshman Max Tennant led the Bishops with 4 goals and an assist. Junior Ben Rigger was credited with 8 saves.
Both teams had the opportunity to compete as well as grow closer as a team as they travelled to new places during spring break.
The women's team traveled to Puerto Rico together which brought new challenges, Coach Huguenard said.
Huguenard said the area was beautiful but, "The heat was a new obstacle we have not dealt with this season, and also the competition was fierce."
The team played two games, one against Oneonta State and one against Roanoke. The Bishops lost both games.
Senior Patricia Ryan said she was proud of how her team performed. "You only get better when you go up against competition like that."
Coming back to OWU, the team had no time to relax. They played two games and finally got a break this past Sunday.
"It's been very exhausting, but this team is motivated," Huguenard said.
In Maryland, the men's team played two games as well, one against Salisbury which was a close loss of 12-13 and another against Messiah, which the Bishops won 17-3.
The women's lacrosse team played next at Muskingum on March 23 at 7 p.m. The men's lacrosse team plays next on March 26 at 1 p.m. against Kenyon in Selby Stadium.