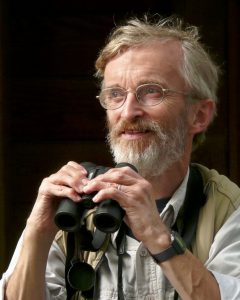 Matt Cohen, Editor-in-Chief
An Ohio Wesleyan professor of 37 years died the morning of Wednesday, April 27.
Professor Emeritus Edward "Jed" Burtt, 68, of Delaware, Ohio, passed away at his home. Burtt received the Ohio Professor of the Year Award in 2011, was an internationally recognized ornithologist and a member of the OWU faculty for 37 years.
In an email from President Rock Jones Wednesday morning, Burtt was quoted from his acceptance speech when he received the Ohio Professor of the Year Award.
"If I may paraphrase a politician, it takes a community to nurture a professor. Indeed, my career has been guided by this community … Thank you to my colleagues and all the students for nurturing me. I appreciate that you have let me be a part of your lives. You have been my life. Thank you for a wonderful life."
Jones concluded his email saying, "Please join me in extending our deepest sympathies to Jed's loving wife, constant companion and excursion photographer, Pam, who also has become a beloved member of the OWU family over the past four decades."
Burtt requested no services. Instead, he requested contributions in support of Ohio Wesleyan's Natural History Museum. He retired in 2014.