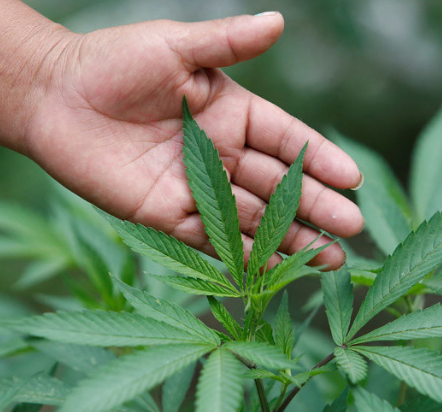 Legal marijuana is growing in business
The fifth annual Marijuana Business Conference and Expo kicked off Nov. 16 in Las Vegas, Nevada. Over 7,500 cannabis industry leaders gathered together to network and learn from one another.
This conference allows for the entire marijuana business ecosystem to be under one roof for a span of three days. Even though the conference is currently sold out, one Ohio Wesleyan University professor was able to snag an open spot.
Since 2015, Justin Breidenbach, assistant professor of accounting, has traveled to leading marijuana growers, producers and retailers across the country in hopes to develop an understanding of the industry from seed to sale.
"My hope is that I can provide information mation from a non-biased and academic approach to better understand the industry and how it is serving stakeholders from an accounting and business view." Breidenbach said.
Similar to a traditional business, the marijuana industry requires detailed records of products from seed to sale. According to Northwest Cannabis Solutions, the largest recreational marijuana producer/processor in Washington, every seed is barcoded throughout the production process.
As of Nov 8. in the U.S., eight states have legalized the recreational use of marijuana, 21 states have legalized the medical use of marijuana and 15 states have legalized limited medical use of marijuana.
As popular as this industry has become, many hindrances still stand in the way of interested parties that want to join the market.
One major issue people have when trying to join the legal marijuana industry is start up capital. Breidenbach pointed out that cash is king in this business due to the fact that banks do not accept money from the marijuana industry because it is federally illegal. This makes it very difficult for interested parties to get loans as well as insurance.
Another issue is that startup costs for a business in the marijuana industry is around four times higher than a traditional business. Breidenbach explained how high startup costs lead to the higher costs of the product in order for the producers to make a profit.
Although pricing is based on market value like a traditional product, the cost of these products are in ated from the very start as a result of high startup costs.
"The market has a lot of room to grow," Breidenbach said. As the industry continues to expand, producers and lawmakers alike will find that balance in which the government can control and tax the product while still allowing the producers to be pro table.
Breidenbach is one of the leading academics doing research on this topic in the hopes to gain an understanding of the industry.
"Research on this industry is very hard to nd," Breidenbach said. This is solely due to the fact that the legal marijuana industry itself is so new.