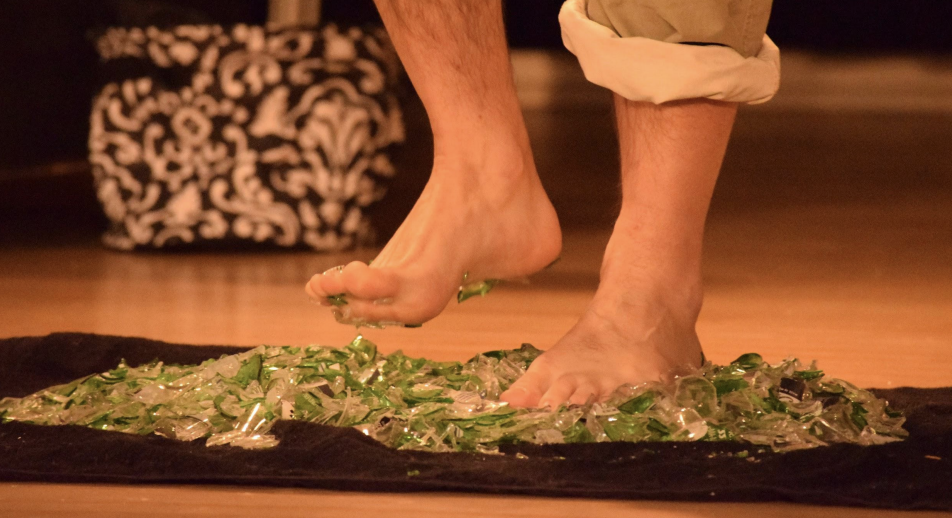 Escape artist whips audience members into shape
By Liz Hardaway, Arts & Entertainment Editor
Would you trust a man you just met to whip a piece of celery in half? Would you trust him if that stalk of celery were hanging outside of your mouth?
Brian Rudo, an escape artist with Adrenaline Comedy, did just that on Jan. 26 in Milligan Hub.
Picking various students from the crowd, Rudo led students in various tasks like helping him into two straitjackets, stepping on his face and into shards of glass, and holding celery in their mouths so he could whip the vegetable in half.
"It was definitely frightening to watch. I was sitting right by him when he was swinging [the whip], and I swear he was going to hit us with it," said Kristen Nooney, the president of the Campus Programming Board (CPB).
The members of CBP found Rudo at the National Association for Campus Activities conference. Guillermo Gutierrez, the vice president of CBP, was approached by Rudo to tie him to a chair.
"Personally, I like an artist who is engaging and who understands the atmosphere of our school…I've found often-times found spoken-word poets do really well with students…we're trying to figure out what people want to see," said Gutierrez.
Although Rudo is not a magician, he seemed quite comfortable with his dangerous and painful-looking stunts. But he did reveal the secret to getting out of a straitjacket: "Wiggle," said Rudo.
Rudo has executed more dangerous stunts than he did at Milligan Hub, but decided to change his act as the night pro-
gressed to cater to what the crowd wanted.
"I've been saran-wrapped in a tank underwater…padlocked on the outside, with a curtain…I've been hung from a bridge overpass in Alabama in two straight jackets over a pit of fire," said Rudo.
CBP's next event is a 1950's Roller Skating night on Feb. 16 from 6-9 p.m. in the Benes rooms. CBP will also be announcing on March 1 their surprise musical artist for the fourth annual Bishop Bash.