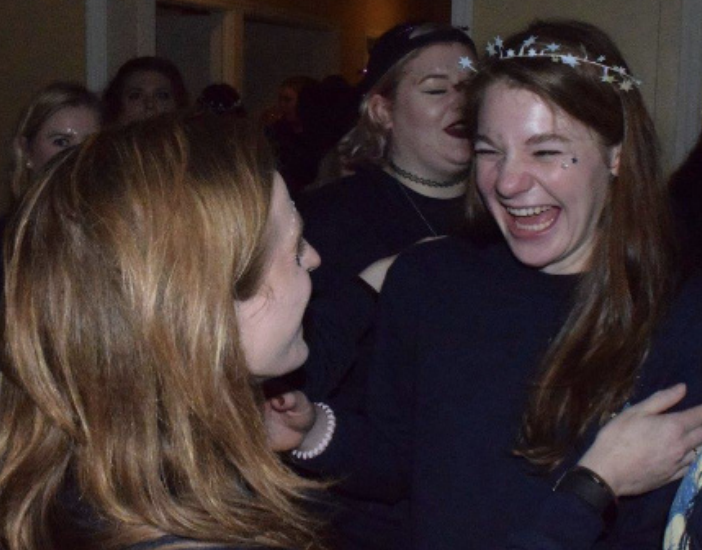 Greek community rushes into formal recruitment
By Alanna Henderson, Managing Editor
New year, new members—spring semester is the busiest time of the year for Ohio Wesleyan's Greek community.
Formal recruitment for fraternities and sororities take place at the start of spring semester every year.
Sorority recruitment officially concluded on Jan. 23, with houses welcoming new members to its organizations by handing out bids. Fraternities, on the other hand, will have bid signing Monday, Feb. 6.
Forty-three percent of men and 34 percent of women on OWU's campus are affiliated with Greek organization. To help increase those percentages, changes were made to women's recruitment dates.
This year, women's recruitment was held earlier than previous years. Because of scheduling conflicts, the first day of rounds started on Jan. 18 and ended on Jan. 20.
In the past, recruitment rounds would begin on the first Friday of classes after winter break in the evening, while bid day festivities took place the following Monday evening.
Panhellenic Council President Elise Baer of Delta Delta Delta (Tri-Delta) worked with Vice President Recruitment Maddie Presley-Wolff (Delta Zeta) and Membership Director Shelby Mackey (Kappa Alpha Theta).
Prior to Panhellenic presidency, Baer has been involved in her sorority as Panhellenic Delegate and vice president of chapter development.
"I really enjoyed talking to the Rho Gammas," Baer said. "Seeing how in the beginning, they were reserved with one another, but by the end of recruitment, they were all engaged with one another and in different chapters that they might not have known ever. That was probably one of the most Panhellenic experiences in that aspect."
Dana Behum, assistant director of student involvement for fraternity and sorority life, now has her seventh formal recruitment at OWU crossed off her to-do list.
"The great news is that recruitment isn't perfect, but it's something we're given by our National Panhellenic Conference," Behum said. "It is not unique to our campus, it's a process that every Panhellenic across the nation will follow as appropriate to the size of their campus."
"I went through the same [recruitment] process as an undergrad in 2002. There were 17 chapters on my campus, so first parties took an entire weekend. There is proof that it can be successful, but it is not perfect."
New member of Tri-Delta, sophomore Ninna Maldonado went through recruitment for the first time this year.
"It was nerve-racking, but my sister who is greek at another university encouraged me to get out my comfort zone," Maldonado said. "It can be intimidating, but the Rho Gammas and the Panhellenic council are very supportive."
The fraternity recruitment process is more casual than sorority recruitment. Each fraternity hosts one formal event and one informal event.
Sigma Phi Epsilon's (Sig Ep) informal event was held on Jan. 23, where unaffiliated men played basketball with active members.
"There was a good turnout of unaffiliated men who showed up and it was a good way for them to interact with some of the active members they may have not known, as well," President Patrick Puracchio said.
On Jan. 31, Sip Ep hosted its Balanced Man Scholarship dinner.
"[This event is] where we give our Balanced Man scholarship to the person who [we] thinks lives [by] our value as a fraternity," Puracchio said. "They have to submit an application that we review as a fraternity and then they go through an interview process and we decide out of the applicants who should receive the scholarship."
Men's formal recruitment held two information sessions: one in December 2016 and another in January 2017. Junior Mac Willard of Chi Phi, the vice president of recruitment events and marketing, ran both sessions. These sessions have given unaffiliated men the opportunity to learn about OWU's Greek life overall, as well as get to know specific chapters better.
Men's bids will be distributed the first weekend of February. The active men come dressed in formal attire with their chapter letters on flags and cheer the new members.
"Bid night has such a lively atmosphere," Willard said. "When unaffiliated guys walk in the doors of Ham-Will and head straight to the chapter's table where he'll sign his bid—that's an exciting time. The whole brotherhood there will cheer and clap and shake hands. It's a good time."
Thirty-eight percent of OWU's campus as a whole is affiliated with Greek organizations.
"There are groups of people on campus that Greek life hasn't been able to impact; I'd like to reach out to them," Baer said.
A common fear for those signing up for recruitment comes from misconceptions, according to Baer.
"Greek Life here at [OWU] is really unique and different than you see on a lot of other campuses," Baer said. "There's absolutely room for growth, there's always room for growth and whether that be further down the road and there is a new chapter opened, which be astounding, it'll take time."
Women's recruitment peaked with 116 sign-ups, while 123 men signed up to join fraternities.
"I was intrigued to see and know so many different individuals involved with Greek life on campus," Maldonado said. "I thought, if so many others on campus can find their place, so can I."