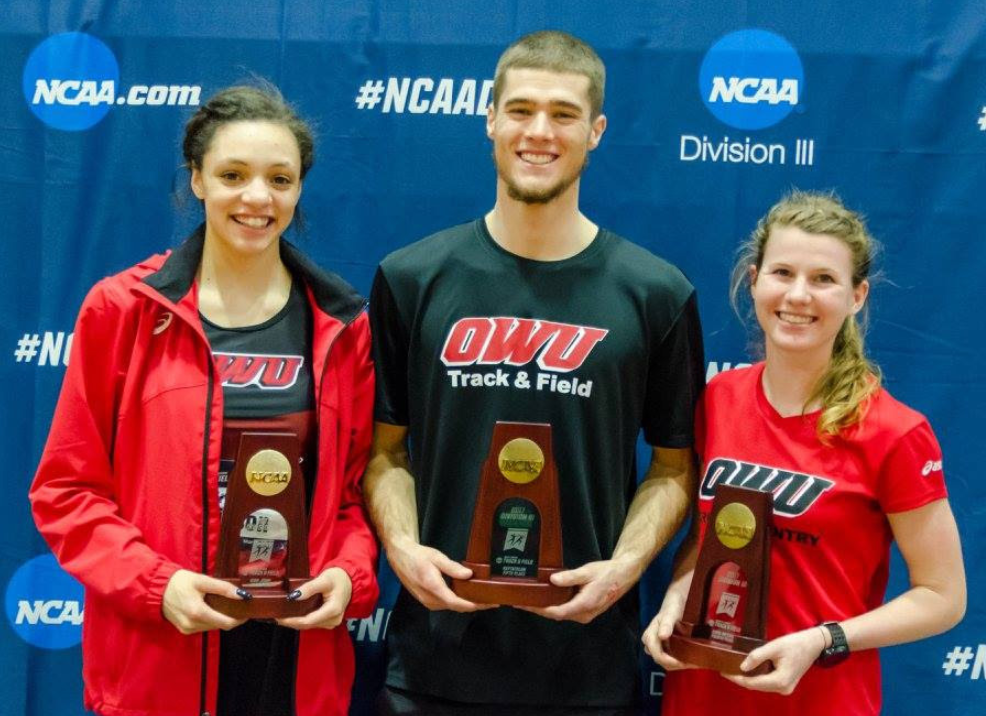 Freshman track and field athlete wins national title at Division III event
By Aleksei Pavloff, Sports Editor
A national champion was crowned for Ohio Wesleyan University track and field while two others placed in the Division III national championship meet March 10 and 11.
Cirrus Robinson, Sarah Fowler, and Nate Newman all placed in their individual competitions at the NCAA championship meet. Robinson, a freshman, won the NCAA title in high-jump and is the second woman from OWU to win an individual championship.
Junior Nate Newman participated in the heptathlon and placed in the top 6. He received All-American honors joining senior Fowler who also received All-American honors. Fowler broke a school record in the 5000-meter with a finishing time of 16:54.38 and the previous record was 17:04.66 also set by Fowler earlier in the season according to battlingbishops.com. Freshman Robinson took the crown as national champion in high-jump and, according to battlingbishops.com is the second women in track and field to win a title.
"It was just a special moment," said Kris Boey who is the the director of track and field, cross country and the head coach for track and field. He said this season gives the team a sense of pride and the tradition they have is "great."  
The national meet was hosted by North Central College in Illinois and Boey said that the meet was organized well.
"There was a lot of energy," Boey said. Sometimes meets can get the best of athletes because of the stressful atmosphere, but Boey was confident that the freshman would handle the pressure.
"[Boey] was really realistic with me," said Robinson.
While two OWU athletes placed, Robinson won the NCAA title in high-jump just beating Emma Egan, a freshman from Williams College.
"I was completely overjoyed," said Robinson.
"I think it is  tremendous for her and the track program," said Athletic Director Roger Ingles. "It is unbelievable."
Boey felt that she was willing and able to leap ahead of the competition. He said she kept a level head and that she was  able to perform under pressure.
"She knows how to have Fun," Boey said. "After the conference meet, I knew she was ready. I knew she was going have a great meet."
Robinson competed the second day and was seeded second heading into the meet. She said staying calm was key in her performing her jump and mentioned that Boey helped her get comfortable in the moment.
"We just kept focusing on making the heights," Boey said. "We didn't even talk about winning."
The decision went down to how many missed attempts the separate individuals had in total and Robinson had the least missed jumps with just three.
"It took a while to sink in," said Boey referring to how Robinson reacted to her win. "We have seen just the tip of the iceberg." Robinson represents the program well, according to Boey, and this was a great moment for her and the team.
Robinson said she received several text messages from friends and family after she won and this moment solidified her confidence as an athlete.
This indoor track and field season has been a successful one for OWU. Boey hopes that success will lead to more in the upcoming spring season.
"I believe she will continue to grow and progress. I can't say for sure but I know she will put herself in a position to be successful," Boey said adding Robinson has the ability to be one of the best track and field athletes in Division III.
Robinson mentioned her two teammates, Newman and Fowler, played a big role by inspiring her to work and compete harder.
There is an overall sense of pride for the program and there is anticipation for what is yet to come from players and coaches. Robinson said that she does not feel content and she is currently preparing for the spring season. But for now, she can now breath a sigh of relief knowing that she is a champion and that this is only the beginning of her collegiate career.
"I couldn't be more proud of our team," said Boey. "They represent Ohio Wesleyan and they did it in the best of fashion."