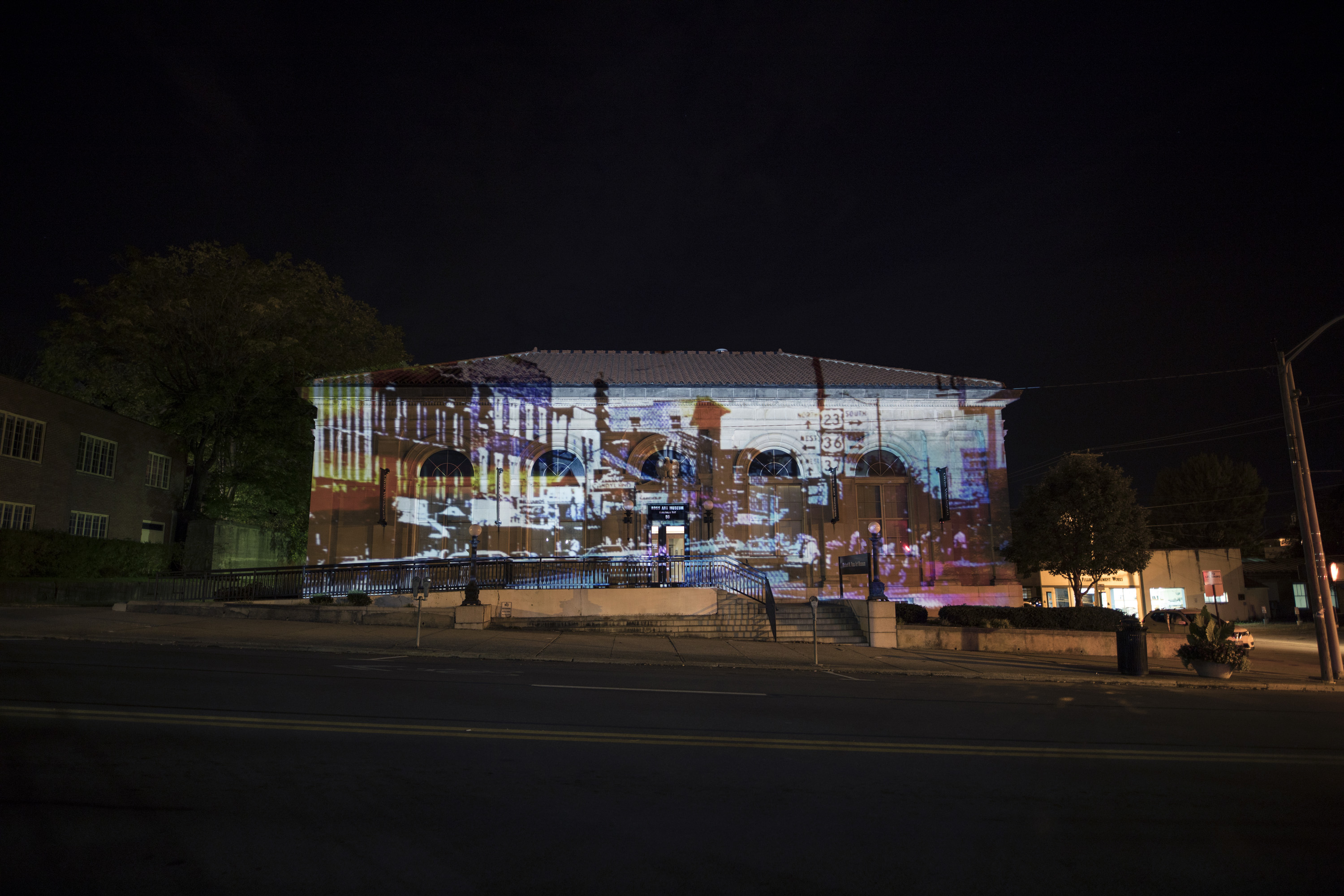 Ross Art Museum features first outdoor video exhibit
By Jesse Sailer, Transcript Reporter 
The unveiling of the Ross Art Museum's first public outdoor art installation titled "the Shadows We Cast" is a thought-provoking conversation piece about years of history stored within public spaces.
The installation was projected on the front facade of the Ross in the form of a 12-minute looped video that showed a montage of documents and images collected from the Delaware County Historical Society and the OWU Historical Collection of Beeghly Library.
The artists behind the exhibit are Tiffany Carbonneau and Susanna Crum, both of whom have pursued art as their chosen professions and continue to create work in their chosen medium.
Carbonneau's body of work explores the impact of our surroundings by presenting the public with familiar architectural constructions in an unfamiliar setting. Crum is an accomplished printmaker and has been heavily focused on archival research and social artifacts.
Her work consists of multilayered images that merge together oral histories, documents and film.
"The overlaying of images from different eras and time periods give way for the viewer to access public space in a new way," said Crum.
Carbonneau and Crum's shared interest in the connection between the past and the influence it holds on the present and future made for an advantageous partnership.
This project has been in the making for more than a year and was sparked by an interest in the history of the Ross Art Museum. Prior to its renovation into an art museum, it served as a post office until 1969. Its job as a post office allowed for it to be a crossroads between campus and community and a transition point for sending and receiving information.
This link between the outside world and inside manifested itself in the shape of postcards, letters and printed maps and brochures.
These materials were collected and meticulously layered on top of each other to create a composition and narrative that displayed a visual relationship between personal, political and historical events that shaped the cultural diversity of Delaware.
"All are treasures, like gears in a time machine taking us to curious places in the past inspiring us to carry on," said Benny Shoults, a trustee and member of the Delaware County Historical Society.
The technical aspect of the video installation was accomplished through the process of projection mapping. A complex process of manipulating the chosen projection to fit the exact contours and terrain of the structure the video is being presented on.
Creating these projections "highlights the significance of our built environment within our modern and historical cultural framework," said Carbonneau.
This exhibit gives a glimpse into the cultural identity of Delaware and the OWU communities. Through the collection and presentation of historical archives, the public is provided a narrative that illustrates the connections between past and present.