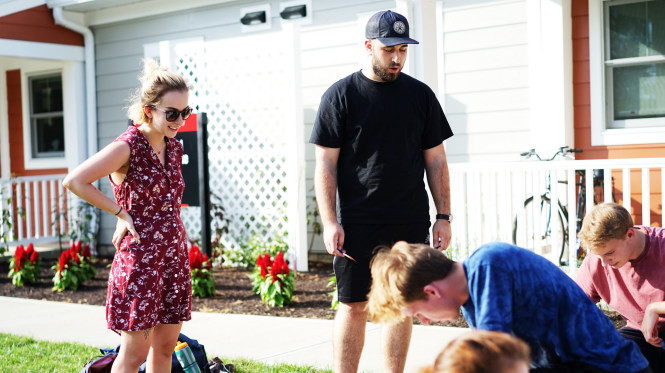 Tree House member hosts first house project of the semester
By Reilly Wright, Photo Editor 
The dirt covered construction site on Ohio Wesleyan's Rowland Avenue has since been replaced by blanketed green grass, indie music and happy painters.
Junior Alix Templeman hosted Tree House's first house project of the year on Friday, Sept. 22, in the front yard of the newly constructed Small Living Unit. Her event invited community members to paint on two environmentally-themed canvases and purchase baked goods.
"The money that I get from [the food] will go toward purchasing a terracycle box that will be able to recycle everything," Templeman said. "Delaware can only recycle plastic ones and twos. With the terracycle box, you can recycle literally all the plastics."
The two canvases began blank, sporting tape spelling "The Earth does not belong to us" and "We belong to the Earth."
Within the first 30 minutes of the two-hour event, the pieces were dutifully colored by SLU members and passersby. Tree House members are required to complete one house project a year with the only stipulation of it to relate in some way to the mission of the house.
"This [event] relates to the house mission because we're spreading the message of loving the earth," said junior Eva Blockstein, the moderator of Tree House. "It's all about engaging the house with the outside community and making sure that people know tree house has a presence on campus."
Blockstein said future house projects such as building garden boxes and a wind chime workshop of recycled materials are coming soon.
"House projects show the community who we are," Templeman said. "I think, depending on what you do, sometimes it really does benefit the community and get the word out about environmentalism."
Templeman said she plans to have the finished canvases hung inside the house to show the power of people getting creative together.
"I think [Templeman]'s kind of a pro now because she's an older member and she's lived in the house longer than a lot of the new members," Blockstein said. "So this is a really good way to show the new members how great a house project can be."