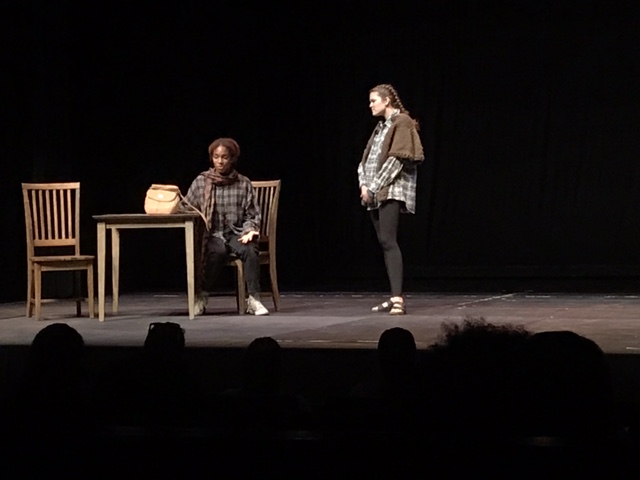 OWU students shine in production of "Scenes"
By Alameina White, Transcript Reporter
Some of Ohio Wesleyan's first-year students got their chance to shine in this year's production of Scenes.
Scenes gives first-year students a chance to showcase their skills and express interest in the theatre department. Not everyone who participates are theatre majors; some participate for fun. Each year, Scenes is conducted by the Directing class instructed by Ed Kahn.
This year the, class's directors were Emma Antal, Jack Riter, Josh Martin, Doris Ottman, Emily Shpiece, Michael Sutton and part-time instructor Bradford Sadler.
Seven scenes with themes ranging from poverty in Alfred Sutro's "The Man on the Kerb" to adultery in George Bernard Shaw's "Overruled" were presented this year.
"It greatly exceeded my expectations because it was Scenes [performed by freshmen]," said Romi Gould, "but everyone performed so well."
Gould went to support her friends and was impressed by the smooth transitions and said she liked that there was an open forum for everyone to meet the cast and crew at the end. Some in the audience didn't know what Scenes was about, but came to support their friends and family anyway.
"I didn't really know what I was going to," said Nate Burkes. "My friend had told me that it was a chill, lighthearted event he thought I'd like."
A few audience members had participated in Scenes in previous years and also found the performance very entertaining.
"I was in Scenes last year," said Alanna Williams, "and it was just nice to see it done so well from an audience's perspective."
At the end of the production the department thanked everyone for attending and encouraged them to attend their next performance titled "Fahrenheit 451." This event is happening from Oct. 5 to Oct. 8.