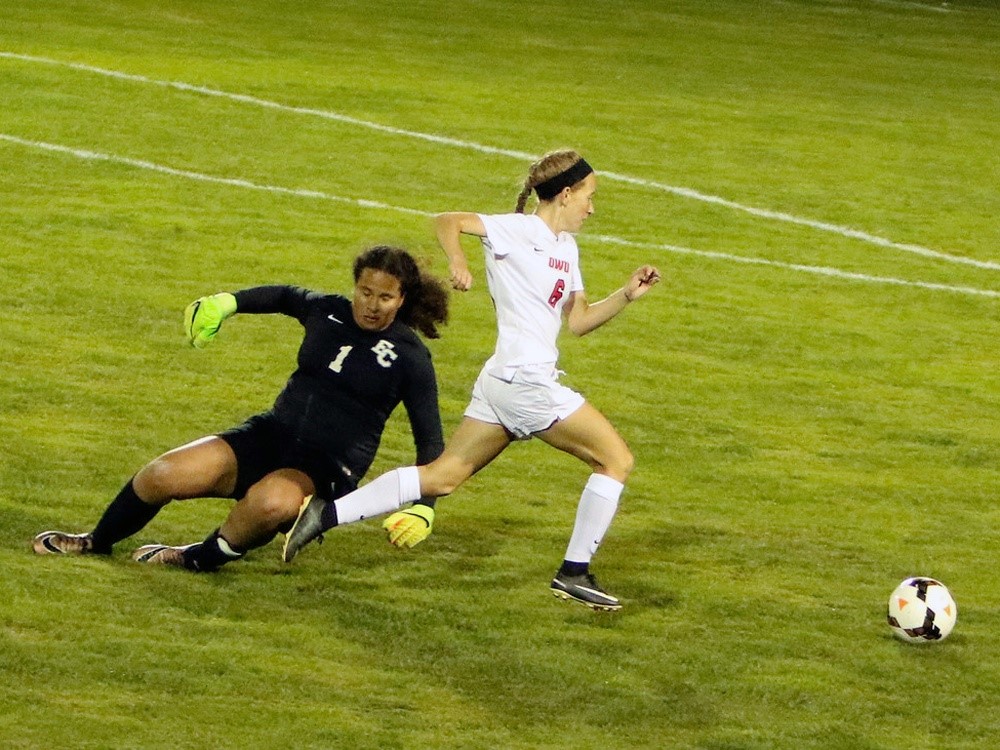 Women's soccer team finds early success
By Kienan O'Doherty, A&E Editor 
Ohio Wesleyan's women's soccer team used to be considered an "easy win."
Now, it's a different story.
Three years ago, OWU had only won one game, dropping every single conference contest. The year after that, they had the same result. New head coach Nicole Ross was hired last year, and the team drastically improved, winning a total of seven games, which was enough to get some recognition, but not enough for the Battling Bishops.
This year, the Bishops were undefeated the first two weeks of the season and are 4-2-2 through their first eight games, their best mark since the 2011 season, where they posted the same record through the same amount of games.
Predicted to finish sixth in conference play, the team has been playing like a top contender.
Junior Mackenzie Brunke, who has started as goalkeeper since her freshman season, has seen the program find a new voice.
"If you were to ask me freshman year that by my junior year we would have 14 freshmen, a new coach and still be undefeated in the first two weeks I probably would have laughed out loud," Brunke said. "This program has done a total 360 from my freshman year. I have seen girls who are so dedicated to this program make a huge impact in such a short amount of time"
Statement wins over Bluffton and Defiance have shown that impact, where the Bishops exploded for six goals in each contest.
Most recently, a tie to conference foe Oberlin kicked off North Coast Athletic Conference (NCAC) play.
Junior Megan Price, who shared the team lead in goals last season, said she believes Ross deserves a huge amount of credit for the Bishops recent success.
"[Ross] is a great coach and is an advocate for everyone.," Price said. "She creates challenging practices and spends hours planning our practices so that no time is wasted."