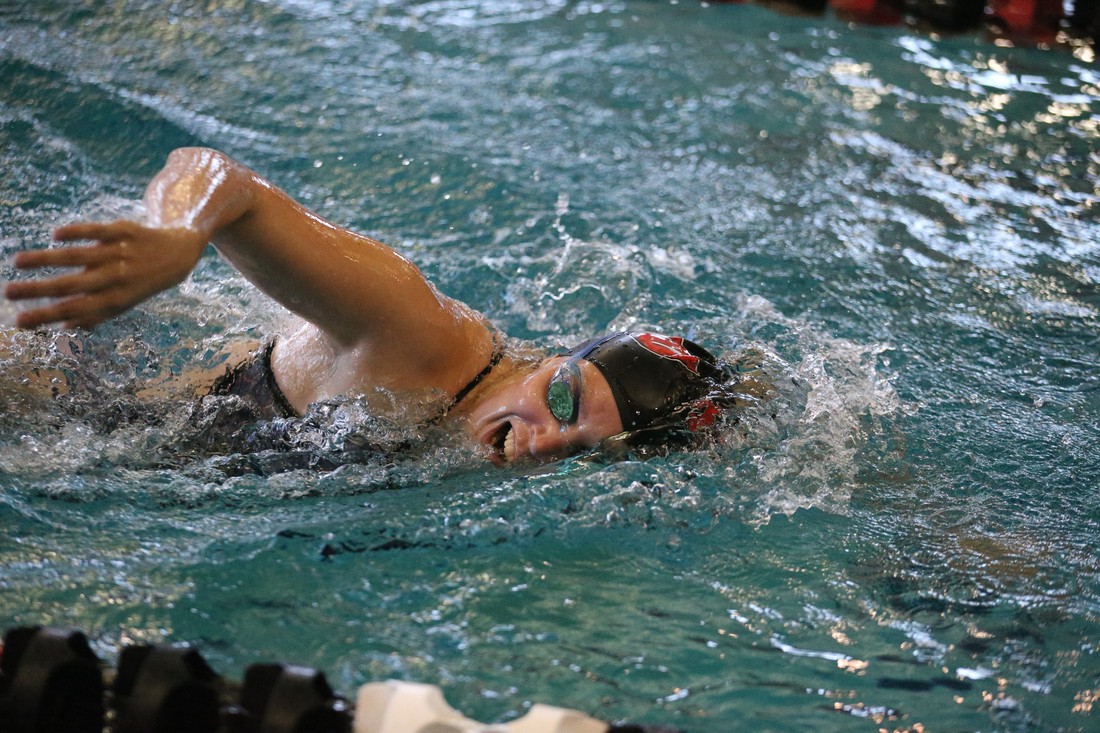 By Jesse Sailer, Sports Editor
Ohio Wesleyan men and women's swim & dive came out on top at their final triangle meet before conference starts.
OWU men's swim & dive ended the meet with a total of 796 1/2 points compared to Oberlin College's 432 and Notre Dame College's 293 1/2. With the women finishing with 740 points over Obelin's 277 and Notre Dame's 195.
Junior Ben Whitbourn and sophomore Colin Hawes led men's swim & dive with three event wins each and key performances in two relays.
Whitbourn won the 100 backstroke in :56.10, the 50 freestyle in :22.14 and the 100 IM in :56.71. He also finished second in the 50 backstroke.
"We had come off of lots of tough training the previous weeks but despite this the team performed well," Whitbourn said.
Hawes won the 1000 freestyle in 10:32.00, the 500 freestyle in 5:03.38 and the 400 IM in 4:35.49
Both Hawes and Whitbourn along with junior Chris Ruiyantoro and sophomore Aman Ngqakayi won the 200 medley relay in 1:39.01 and the 800 freestyle relay in 7:23.96.
Multiple wins for OWU also came from Ruiyantoro in his :24.15 50 butterfly and :25.63 50 backstroke as well as a second place 50 breaststroke.
Ngqakayi won the 100 breaststroke with a time of 1:01.21and won the 200 breaststroke in 2:18.01. He also finished third in the 100 butterfly.
Freshman Trey Serbin gave a diving performance that accumulated him a total of 220.58 points off the one-meter board and 237.75 off the three-meter board.
"It was good to bring the regular season to a close on a high note entering a critical point in the season prior to conference," Whitbourn said.
Sophmore Ty Mansfield and junior Alicia Margello each won two events and helped the relay team towards a first place finish of 1:54.04.with fellow swimmers sophmore Liz Mayio and freshman Emily Fulmer.
Margello won the 50 breaststroke in :32.21 and the 100 breaststroke in 1:10.55 while Mansfield took first in the 50 backstroke with a time of :28.44 and first in the 100 IM with a time of 1:03.43
"Everyone produced really good times and had some really close races, we performed really well for the end of the season," junior Alicia Margello said.
Multiple wins came from freshman Abby Culbertson who won 100 and 200 backstroke with times of 1:04.76 and 2:19.50. She also finished third in the 50 backstroke.
Other standout performances came from junior Shannon Bermingham who won the 200 breaststroke in 2:38.47, junior Allie Niemeyer who won the 1000 freestyle in 11:51.48 and sophmore Qiukui Moutvic who won the one-meter diving competition with a score of 191.40 points