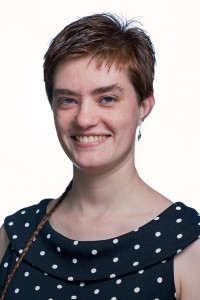 Senior's work on hot topic earns award
By Reilly Wright, Managing Editor
Since her first step on campus, Ohio Wesleyan senior Chloe Dyer has dedicated her time to food security and sustainability in the local community.
Dyer's efforts toward food recovery were recently recognized with a 2018 Charles J. Ping Student Service Award and $250 Legacy Award mini-grant to benefit the charity of her choice. Since founding OWU's Food Recovery Network chapter, a movement toward recovering perishable food and donating it to people in need, over 3,000 pounds of unused food has been donated.
The Ohio Campus Compact's annual awards are aimed to recognize undergraduate students reflecting strong leadership and community service. Dyer said her Legacy Award funds will be donated to Grace Clinic Delaware, a free medical ministry that provides those in need with free medical assistance.
Dyer learned about the Food Recovery Network (FRN) during her freshman year food justice track of Fresh X, a part of OWU's first year orientation. She said FRN's recovered food from Chartwells has translated into thousands of meals for people facing food insecurity.
"When I learned about the Food Recovery Network, I wanted to start a chapter at OWU to address the issue and help combat hunger in the Delaware community," she said. "FRN allows us to divert food that would be thrown away on campus to community partners who can provide it to those in need."
Ohio Wesleyan President Rock Jones nominated Dyer for the award and said her local work as a Court Appointed Special Advocate (CASA) also reflects her future in civic engagement.
"I would only say that Chloe Dyer exemplifies the highest ideals of Ohio Wesleyan University, connecting a rigorous academic program with deep and thoughtful engagement with the world, through study travel and through extensive volunteer service," Jones said.
According to Jones, this campus-community partnership Dyer helped build has led the FRN to be an integral part of Ohio Wesleyan's Sustainability Plan. This is a newly adopted effort to guide OWU toward a more sustainable and healthier future both for campus and for the earth.
Although Dyer recognizes FRN's success, she said the problem is far from solved. In the Marketplace of Hamilton-Williams Campus Center, Dyer said they sometimes have donated over 100 pounds of leftovers from one meal in one day.
"When you consider that we have two dining halls open for three meals a day, four days out of the week and one open on the weekend, it shows how much food goes to waste simply because the infrastructure doesn't exist to take surplus food to where it's needed," Dyer said.
"This isn't an issue restricted to our dining hall, either, but happens in cafeterias and restaurants throughout the U.S.," she said. "At the same time, thousands of families in Delaware alone go hungry. Our work with FRN is an important first step, but there's a lot of room for our efforts to be expanded."