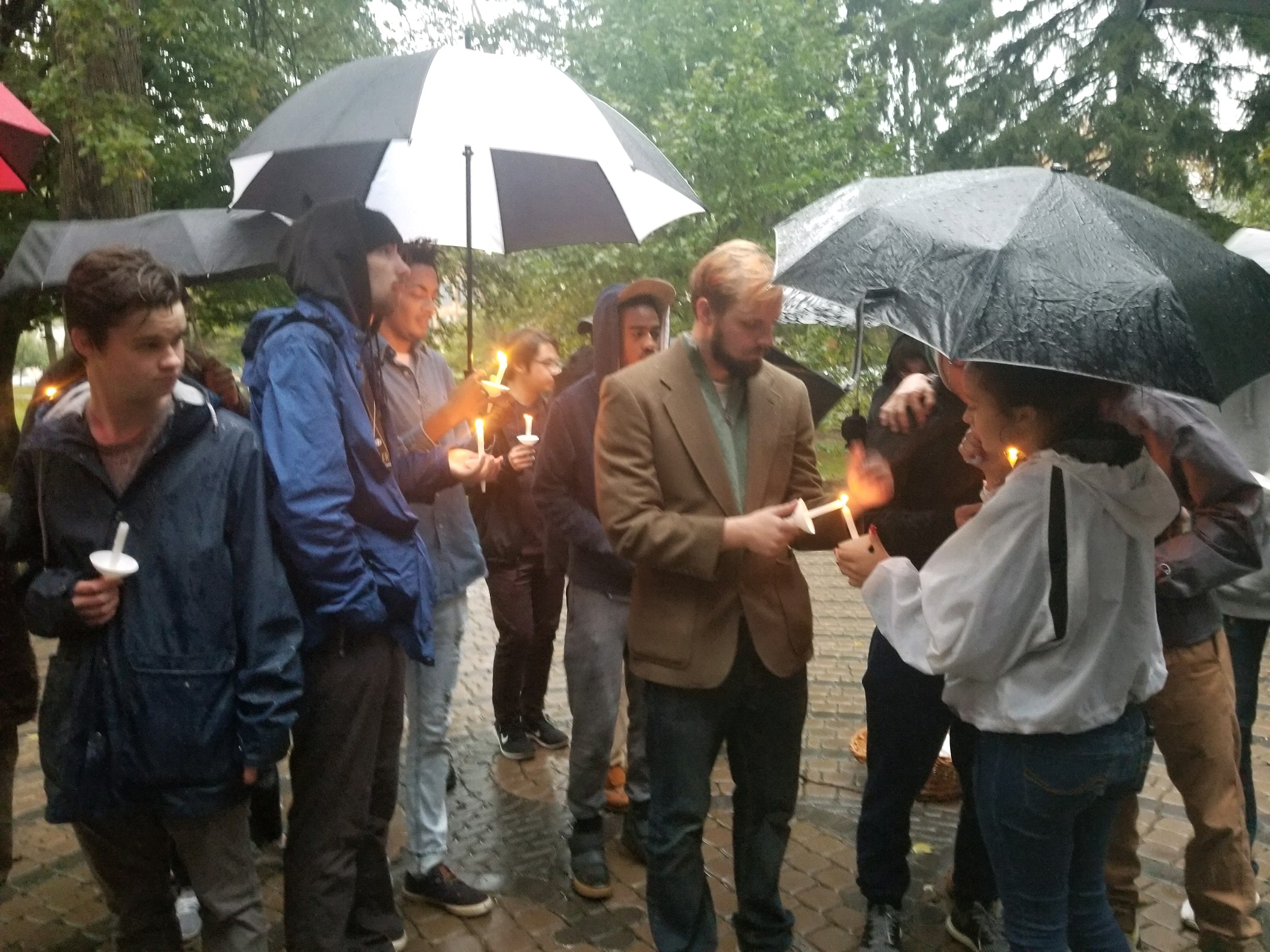 Death of student brings students and staff together in remembrance
By Spencer Pauley, Managing Editor
sgpauley@owu.edu
The loss of an Ohio Wesleyan student to suicide caused staff, faculty and students to come together in a candlelight service in remembrance of Hollis Morrison.
Morrison's death came unexpectedly on Oct. 2. According to an email sent out by OWU president Rock Jones, Morrison passed away while in his home in Bidwell, OH.
Morrison was an exceptional student during his time at OWU. Morrison made the Dean's List with a 3.6 G.P.A. last year, his freshman year. However, he was not enrolled in classes for the fall semester of 2018.
Morrison also was really into basketball according to his obituary; he played guard for Ohio Valley Christian High School in Gallipolis until he graduated in 2017. His love for basketball transcended into his younger brother, Myles. Morrison's obituary states: "[Morrison] got his little brother Myles into basketball and pushed him everyday to do his best. Myles was proud to call him his best friend and ultimately his big brother."
The candlelight service in honor of Morrison was held at the Labyrinth on Oct. 26. OWU student Scott Hughes set up the service in honor of his best friend since first grade. Hughes talked about what Morrison meant to him.

"We talked everyday since we knew each other, from the first day of the first grade until we got to college together," Hughes said.
Even after they started taking classes at OWU, Morrison and Hughes made it a point to keep in regular contact.
"We had to see each other at least once or twice before or in between classes," Hughes said. "We would meet up right here [at the labyrinth] just to see each other, just to be brothers."
But the meetings Morrison and Hughes had would become less common after the death of Morrison's father in June and his grandmother's death as well.
Assistant Dean Charles Kellom spoke during the service about the frustration he feels on the limitations on helping someone who is struggling mentally.
"I got to see [Morrison] in his last few days," Kellom said. "He came by our office and as a staff person we go through all this training to help students out of these situations and it just sucks to have to hold on to the truth that there is only so much you can do."
Psychology Professor Lynda Hall was Morrison's adviser. Hall drove some OWU students to Morrison's funeral service in Gallipolis on Oct. 10. She remembers seeing so many people come to pay their respects.
"It's amazing how many people were there. I think it's possible his entire senior class was there," Hall said. "It's very clear that he had connected with all kinds of people."
Morrison's obituary states that "Hollis was the humblest being and very outgoing, anyone that crossed his path saw Hollis with the biggest smile on his face. Hollis could make anyone laugh and was the funniest person you ever came across and was an influence on many people's lives. Hollis will be deeply missed by everyone who had entered his life."
Morrison is survived by his grandfather, Kenneth Calhoun, and his brothers, Tru and Myles Morrison.