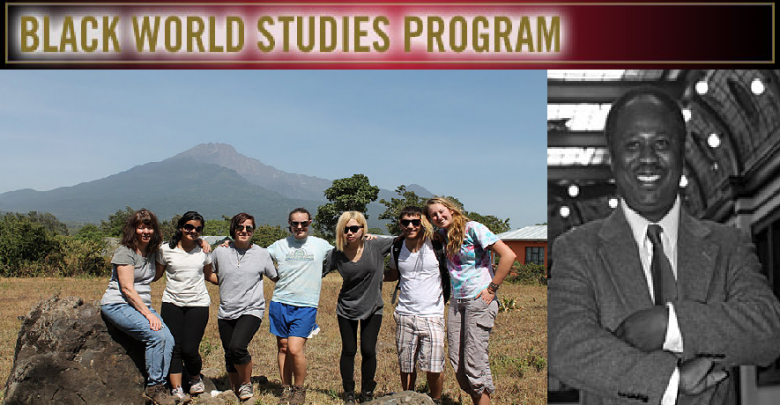 Recent Black World Studies cuts jeopardize department
Director of the Black World Studies program (BWS), Randolph Quaye was recently notified that his request for nine units of classes was denied.
For this coming 2015-2016 academic school year, the BWS department will only have three units of classes each semester.
According to Quaye, "these recent cuts are due to the financial difficulties the university is currently experiencing."
Quaye is the currently the only full time professor in the BWS department.
Although the cuts have been announced, Quaye is currently negotiating with the university and attempting to raise the amount of credits granted to the department.
"I am having a series of meetings with the board to retain programs. I will also be asking, at the minimum to keep Ali Skandor [a part-time faculty member] as a faculty member for the black world studies program."
"Because of these cuts, we can be sure that Swahili 225 will not be offered," for the next academic year, said Quaye.
"As someone who is currently in Swahili, I am extremely upset that I will not be able to continue in my language of choice," said sophomore Cece Albon. "Swahili should be valued with the same importance that other languages at this school are."
As for the completion of the program for current majors and minors, "it is hard to know how exactly they will be affected because a final decision has not been made yet. However, some classes are contingent on the incoming freshman class," said Quaye.
Every student at Ohio Wesleyan is required to take at least two semesters of a language. Swahili is able to be counted towards these mandatory credits.
"His Swahili classes taught me more than just the language. It made me immediately want to broaden my intellectual horizons as well as my experience here at OWU," Albon said.
The cuts also call into question the OWU in Tanzania program.
"If the university makes the planned cuts, it will be hard to keep the program successful when many classes will not be offered. Although, as of right now, about 17 students have shown interest partaking in the program and traveling in Africa," said Quaye.
Albon mentioned that she would love to go to the OWU in Tanzania Program but didn't have room in her schedule.
"It's an amazing opportunity to experience something that a lot of students don't get the chance," she said.
Junior Kelli Kiffer said, "I understand the university is having financial difficulty, although maybe they could cut from a department that is more established and not trying to gain grounding in their field of study." Kiffer is a BWS major.
"One of the reasons the black world studies program exists is to study and protect the African American culture," Kiffer said. "If this program gets cut, there is a good chance these ideas will be suppressed."
Kiffer also explained how she believes the BWS department can at times be underappreciated. Kiffer accompanied Quaye on the semester abroad to Africa through the OWU in Tanzania program.