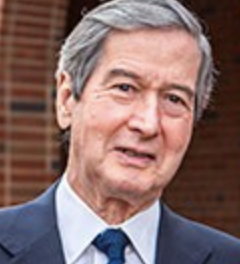 Commencement speaker revealed
By Ben Simpson, Transcript Correspondent
On Senior Night at The Backstretch, President Rock Jones revealed that Andres Duarte '65 was chosen as this year's keynote commencement speaker.
The commencement speaker is chosen by the senior class president and Jones. Lee LeBoeuf is this year's senior class president and she said she is excited for what Duarte has to say to the class of 2017.
"I think his ongoing dedication to his country and the university will be inspiring to our class as we leave OWU to impact other communities around the United States," LeBoeuf said.
LeBoeuf and Jones began brainstorming for a speaker over the summer and worked together to narrow the search.
"Ultimately we were both very excited to ask Andres," LeBoeuf said. "He is also extremely honored by the invitation."
Duarte graduated OWU in 1965 with a major in geology and economics. Duarte continued his education and earned his Master of Science degree in geology from the University of Oklahoma in 1967.
He then enrolled in the Kellogg School of Management at Northwestern for a year and then nished his Master of Business Administration in Venezuela.
"His presence as our commencement speaker gives us the most opportunity to hear from one of our most interesting and accomplished alumni as well as to af rm OWU's commitment to the value of international engagement," Jones said.
Duarte still has strong ties to OWU. Over the years, he helped recruit several Venezuelan students. He also served as an at-large of the Board of Trustees from 1996 to 2005. In 2006, he became a life trustee and currently serves on the board's marketing committee.